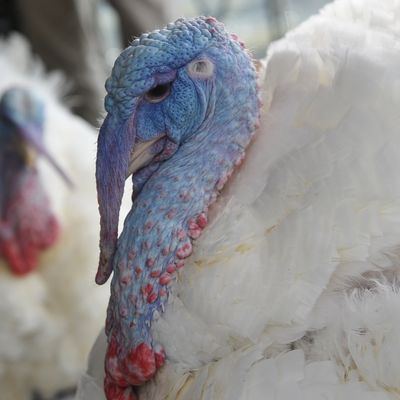 Wasn't this one in
Star Wars
?
Photo: Mandel NGAN/AFP/Getty
For over two decades now, the president of the United States has pretended to pardon a turkey (and its alternate, which exists in case the primary turkey is, um … unable to stand around and be a turkey on that day) just before Thanksgiving to make us all feel a little better about the delicious turkey genocide we carry out in the name of togetherness and gratitude. Obviously this is weird and unnecessary, but if there's anyone who should love the turkey pardon, it would be PETA right? Hey, at least these two magnificent creatures will not be eaten. But no! PETA hates it too:
The animal rights group PETA is calling on Obama to cancel the turkey pardoning, calling it a "sorely outdated event" that "makes light of the mass slaughter of some 46 million gentle, intelligent birds and portrays the United States' president as being in some sort of business partnership with the turkey-killing industry."
Meanwhile, the White House is doing its best PETA impression by reminding everyone that the turkeys they will rip to shreds on Thursday having distinct personalities:
Born on the same day on a farm in Rockingham Country, Virginia, Cobbler and Gobbler may look alike, but they're no birds of a feather. Cobbler craves cranberries, is known for his strut, and enjoys the musical stylings of Carly Simon. Gobbler, a patient but proud bird, loves to nibble on corn and enjoys any music with a fiddle.
We're pretty sure that's all bullshit, but it still makes us feel kind of bad about the all the other turkeys we're going to eat. Except the ones that like listening to Black Eyed Peas. They deserve to die.