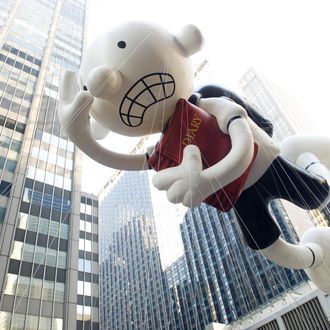 Oops?
Photo: Charles Sykes
Tufts freshman Ethan Finkelstein uncovered a holiday mystery on Thursday while attending the Macy's Thanksgiving Day Parade, where he noticed some unusual writing on a bit of confetti stuck to his friend's coat. "It landed on her shoulder," he told PIX11 News. "And it says 'SSN' and it's written like a social security number, and we're like, 'That's really bizarre.'" Finkelstein and his buddies — who were watching the action from 65th Street and Broadway — began picking up other pieces of confetti and found that they were printed with phone numbers, addresses, license plate numbers, portions of police incident reports, and other interesting tidbits.
One confetti strip indicates that it's from an arrest record, and other strips offer more detail. "This is really shocking," Finkelstein said. "It says, 'At 4:30 A.M. a pipe bomb was thrown at a house in the Kings Grant' area." They even contain information about Mitt Romney's motorcade, apparently from the final presidential debate, which took place at Hofstra University in Nassau County last month.

Most significant, the confetti strips identified Nassau County detectives by name. Some of them are apparently undercover. Their social security numbers, dates of birth and other highly sensitive personal information was also printed on the confetti strips.
The Nassau County Police Department offered a less-than-satisfying explanation for how its (poorly) shredded documents ended up in the parade. In a statement, chief officer Kenneth Lack said only that they were "very concerned about this situation" and added that his staff will be investigating the matter and "reviewing our procedures for the disposing" of sensitive material.
So, is Macy's involved in a plot to take down the cops of Long Island? Well, according to a spokesman, the department store sticks to "commercially manufactured, multicolor confetti" when it comes to the annual gathering of the floats. How boring of them.