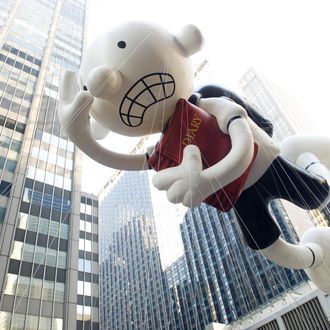 It's difficult to fathom how exactly classified files from the Nassau County Police Department — including, reportedly, the names and social security numbers of undercover officers and details about Mitt Romney's motorcade — ended up being used as confetti at the Macy's Thanksgiving Day Parade, but the Long Island cops are determined to get to the bottom of it, eventually. "We haven't started the investigation yet, but that's what we do — we solve crimes — and I'm sure we'll figure it out," a Nassau PD press officer assured Manhattan attorney Saul Finkelstein, who noticed the confidential info falling from the sky. "It occurred to me this morning that instead of waiting for them to call, I would call them," Finkelstein added.
The authorities picked up the evidence on Sunday night, but only after Finkelstein's reminder, he said: "They thought they could wait until tomorrow, but the powers that be told them to come out tonight." According to the Post, the department told the concerned citizen, "All we know so far is what we've seen in the press," with one officer adding, "We just started the investigation, the wheels turn slowly," and blaming "the holidays" for the delay.
Meanwhile, a portrait of the kind of people who shred secret documents horizontally is beginning to emerge.