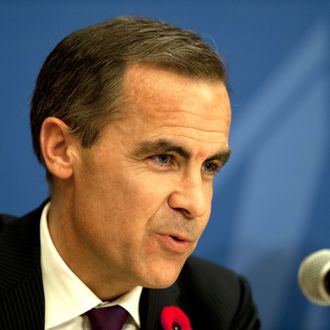 Pray for Mark Carney.
Photo: YURI CORTEZ/AFP/Getty Images
The financial blogosphere is buzzing over the appointment of Bank of Canada governor Mark Carney to lead the Bank of England. Carney is a Goldman Sachs alumnus, so you have your "Government Sachs" conspiracy types lamenting the revolving door, and Zero Hedge calling the U.K. one last "key target of Goldman domination."
But let's not overlook the biggest problem facing Mark Carney as he ventures across the pond. Namely, he is Canadian. And, as such, he is far too polite and unassuming to properly run a central bank in the global capital of hostility and fulmination.
Now, granted, I've never met Carney. But I'm worried about him. Even after getting toughened up by a Harvard education and a thirteen-year career at Goldman, I still wonder if he's ready for the mess that awaits him in England.
You know how British citizens respond to people who fiddle with the country's fiscal and monetary policies in ways that are not to their liking? They riot. They draw mean cartoons accusing them of being witches. They break into their parties and stage mock awards ceremonies. London is many things, but kind and forgiving it is not.
You know how they treat unpopular central bankers in Canada? I don't. But I assume it involves bringing them a box of Timbits with a bow tied to the top, and a note saying "Maybe you could do a little bit better next time?"
In fact, the last time a Canadian muckety-muck went to the U.K. on a diplomatic visit, here's what happened:
[Canadian House Speaker Andrew] Scheer was part of a Canadian delegation invited to visit Strangers, one of several drinking establishments inside the British House of Commons.

There, according to reports, he was one of dozens of visitors who witnessed a shocking scene as Labour MP Eric Joyce, went on a violent rampage against Tory MPs.

Joyce, the member for Falkirk, reportedly began dancing erratically before shouting a disparaging remark about the Tories, dumping drinks on some fellow members, swinging his fists at several MPs who tried to calm him down.

He then head-butted Stuart Andrew, the Tory MP for Pudsey, punched a few more people - including several Labour MPs - and then head-butted Andrew again.
I mean, sure, Carney is a brilliant economic thinker, a sterling diplomat, and wildly qualified for the Bank of England's top post in most conventional senses. But think of his sweet, Canadian soul being torn to shreds by Britain's brutish political climate!
There's still time to turn back, Mr. Carney. Even a 624,000-pound salary is no match for the value of your innocence.