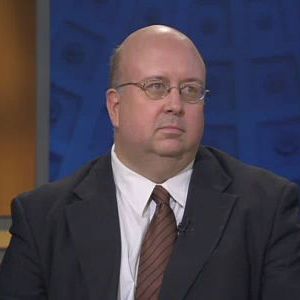 For the past week, NY1 political director Bob Hardt has been live-blogging Hurricane Sandy's impact on his neighborhood of Rockaway Beach. Tonight, he's overseeing the station's coverage of the general election. It's a unique position, covering a national race from a local perspective while also at the center of a major national disaster story. We caught up with Hardt to get his perspective on the storm, the race, and the balancing act of reporting national and local news.
What's going on at the station right now, and what's going to be different or interesting about NY1's coverage tonight?
We are obviously following everything nationally when it comes to the presidential race — but also not forgetting the Battle for the House which is going on across the state. We're watching Michael Grimm's congressional race on Staten Island. In Queens, we're with Grace Meng who hopes to become New York's first Asian-American member of Congress. We're also watching the fight for the state Senate — and a race in Queens where the district was ravaged by Hurricane Sandy. If you want to follow your national politics through a New York prism, we're the place.

What were you doing a week ago at about this time?
Eight days ago I was watching the ocean surround my house in Rockaway Beach.

Does your hurricane ordeal make politics more or less important?
Politics is incredibly important for everyone, including myself. They're still voting in Rockaway tonight, which is a sign that Sandy didn't win. While my head is in the studios here, my heart is in Rockaway Beach. And regardless of where I live, this is easily the biggest story in New York since 9/11.

You're very familiar with New Orleans. How has New York's political and emergency response compared to what happened after Katrina?
Let me first say that Katrina was a far more devastating storm than Sandy. But so far, New York's response has been far better than New Orleans's and the state of Louisiana's in 2005. Part of the reason is that New York City has more than 34,000 cops and 10,000 firefighters while New Orleans at the time of Katrina had fewer than 1,000 firefighters and fewer than 2,000 cops. New York City is a vast empire, and empires have resources that smaller cities and states just aren't able to afford. There's also a question of political leadership: Andrew Cuomo and Michael Bloomberg simply are far more competent than their Katrina counterparts, Gov. Kathleen Blanco and Mayor Ray Nagin. And you have a White House filled with experts who watched the failures of the Bush administration during Katrina and learned from them. It helps that the Federal Housing Secretary, Shaun Donovan, is a New Yorker who used to be New York City's housing czar. Joe Lhota of the MTA has also played a crucial role in the city's overall recovery, clearly telling people what is and what isn't working in the region's massive transportation network. Not everyone has risen to the occasion in New York, however. The sluggish responses of both the Long Island Power Authority and the American Red Cross remind me of the incompetence that we saw so often during Katrina.