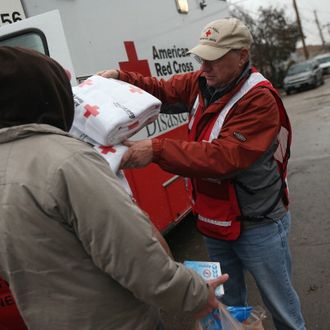 The American Red Cross's Hurricane Sandy response has been called a lot of things, including "an absolute disgrace," by Staten Island Borough President James Molinaro, and "sluggish" by Rockaways resident and NY1 political director Bob Hardt. On Sunday, Red Cross CEO Gail McGovern added another adjective, in an NBC report: "I think that we are near flawless so far in this operation," she told NBC News. After the loud grumblings over the relief organization's response following the storm, that's unlikely to sit well with people feeling forsaken by it. After all, relief is still slow to come to the Rockaways, among other storm-hit neighborhoods, and where the Red Cross has established operations, not everybody is happy with what they've gotten. "I need services, I don't need them to give me coffee," one Breezy Point resident told NBC.
But the Red Cross is operating close to its capacity, its officials told NBC's Miranda Leitsinger. Spokeswoman Laura Howe "noted that the Red Cross has mounted its largest domestic disaster response in five years, deploying its entire fleet of more than 320 feeding trucks and sending nearly 6,000 relief workers to the devastated areas, mainly in New Jersey and New York." And she told the network the organization was sheltering 3,700 people and has delivered more than 4.8 million meals or snacks, along with 477,000 other relief items. If the Red Cross is maxed out by the response, and the relief still isn't getting to people who need it, that means it's at least possible the Red Cross response was as close to flawless as the organization can get, and it was still frustratingly slow. 
"They're always the ones under the microscope," Salvation Army Major George Hood told the Washington Post last week. And Leitsinger noted that the Red Cross isn't unfamiliar with "the role of public punching bag," seeing as how it's the most visible of the non-governmental relief organizations. "Howe said the Red Cross was proud of their latest work but 'would like it to be more perfect.'" Obviously, she's not the only one.