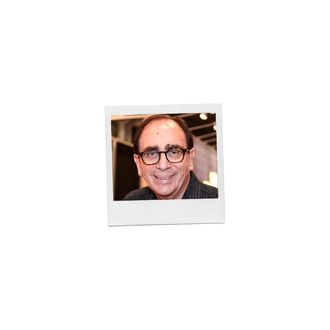 Name: R.L. Stine
Age: 69
Neighborhood: Upper West Side
Occupation: Scaring children; this year his Goosebumps series celebrates its twentieth anniversary. His new adult horror novel, Red Rain, is out now.  
Who's your favorite New Yorker, living or dead, real or fictional?
Jean Shepherd. The distant radio voice I listened to as a kid in Ohio, who seemed to be calling me to New York.
What's the best meal you've eaten in New York?
The tailgate feast my son and his wife grill up before every Giants game. 
In one sentence, what do you actually do all day in your job?
I scare kids.
What was your first job in New York?
Making up interviews with celebrities I never met for a bunch of third-rate fan magazines.
What's the last thing you saw on Broadway?
Nice Work If You Can Get It, written in part by my favorite author, P.G. Wodehouse, and featuring one of my favorite people, Kelli O'Hara.
Do you give money to panhandlers?
Why? Are you looking for a handout?
What's your drink?
Vernors Ginger Ale. Hard to find these days.
How often do you prepare your own meals?
When was the last eclipse?
What's your favorite medication?
Old movies on TV. And chocolate.
 What's hanging above your sofa?
My mother.
How much is too much to spend on a haircut?
When you have as little hair as I have, who cares?
When's bedtime?
When the big hand is on the 6 and the little hand is on the 12.
Which do you prefer, the old Times Square or the new Times Square?
I'm a total Disney freak. I want to LIVE in Disney World. So you can guess the answer.
What do you think of Donald Trump?
I think there's probably a way he could get over his shyness if he really worked at it.
What do you hate most about living in New York?
After spending 22 years in Ohio, I love everything about New York.
Who is your mortal enemy?
I think I speak for all of us when I say Time Warner Cable.
When's the last time you drove a car?
I drive a lot in the summertime, but after that, I don't drive if there's snow predicted for anywhere in 500 miles.
How has the Wall Street crash affected you?
It saved me a lot of time because I no longer bother to open the statements from my account … Why look for bad news?
Times, Post, or Daily News?
I read the Times every morning. Then I read the Post on my iPad. Love the sports section.
Where do you go to be alone?
I write for a living. I'm alone all day.
What makes someone a New Yorker?
A real New Yorker likes the sound of a garbage truck in the morning.