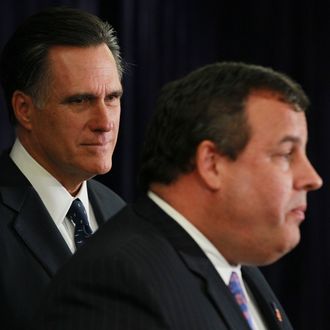 This is because I didn't introduce you to Springsteen, isn't it?
Photo: Justin Sullivan/2011 Getty Images
Mitt Romney has suggested that the presidency was stolen from him by primary debate moderators and President Obama's devious plan to improve Americans' lives, but his former staffers know that isn't the only reason he lost the election. Chris Christie also deserves some of the blame. Despite Christie's argument that months of acting as a loyal Romney surrogate aren't negated by thanking his nemesis during a crisis, since the election many Republicans have lashed out at Christie, and the Romney team is convinced that he hurt them in the crucial final moments of the campaign. The New York Times reports that in a "lengthy autopsy of their campaign," Romney's political advisers found that a large number of voters who were undecided toward the end wound up voting Obama, and many said Hurricane Sandy was a major factor in their decision. "Christie," said a Romney adviser, "allowed Obama to be president, not a politician."
In the days following the storm, Christie tried to frame his repeated praise of the president as a virtue, saying he couldn't even think about politics during the crisis. The response from Republicans wasn't what one would hope for, especially from a party trying to emphasize its compassion for voters. Per the Times:
But in the days after the storm, Mr. Christie and his advisers were startled to hear from out-of-state donors to Mr. Romney, who had little interest in the hurricane and viewed him solely as a campaign surrogate, demanding to know why he had stood so close to the president on a tarmac. One of them questioned why he had boarded Mr. Obama's helicopter, according to people briefed on the conversations.
Christie's response to Sandy might have earned him points in New Jersey, but outside of the state Republicans still haven't forgiven him for his moment of bipartisanship. He didn't get the welcome he expected at last week's annual meeting of the Republican Governors Association, and he was overheard telling another Republican, "I will not apologize for doing my job," during the convention. On Sunday a Drudge Report headline criticized Christie for appearing on Saturday Night Live "as residents suffer," and on Monday night he was still being blasted on Fox News's The Five. Co-host Eric Bolling labeled Christie a RINO, and said he "acted like a Democrat" by giving a "slobbering wet kiss to Obama days before the election" and showing up on "Weekend Update" "while Jersey suffers from power outages, destroyed homes, and massive job losses."
Of course, most Republicans know that the election wasn't decided by a brief bromance with the president — or at least, it wasn't Christie's fling. While some in the GOP have argued that the party must modernize by reaching out to women and minorities and dialing back its rhetoric on social issues, conservative leaders argue that their mistake was running a moderate in the last two presidential elections. Texas Senator Elect Ted Cruz said last week at the Federalist Society's annual dinner that Romney might have sounded like a conservative in his first debate with Obama, "And then, inevitably, there are these mandarins of politics, who give the voice: 'Don't show any contrasts. Don't rock the boat,'" he added. "So by the third debate, I'm pretty certain Mitt Romney actually French-kissed Barack Obama."