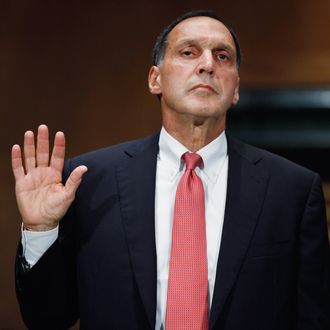 Still got it.
Photo: Chip Somodevilla/Getty Images
You might think that Lehman Brothers would have a hard time making money in 2012, what with having gone out of business and all.
But, like Wesley in the Princess Bride, the bank was only mostly dead after its 2008 bankruptcy. And today, it proved that it could still summon the old Dick Fuld fightin' spirit to get a deal done, with a $6.5 billion sale of Archstone, a real-estate developer owned by the zombie bank's estate.
Archstone, which owns apartment complexes across the U.S. and Europe, is widely regarded as one of the primary reasons that Lehman died in the first place. The bank acquired it in a massive, $22.2 billion leveraged buyout in late 2007, right before housing prices went down the toilet and right around the time investors began considering the possibility that a Wall Street bank owning a large real-estate developer during a housing crisis was not exactly confidence-inspiring.
After Lehman went bankrupt, control of Archstone was passed to the holding company that was winding down the bank and selling off its old assets. That holding company — whose "sole objective is to sell everything it owns so it can repay its lenders and disappear," as The New York Times Magazine put it earlier this fall — finally managed to find a buyer for Archstone, more than five years after the initial ill-fated acquisition. (And at less than a third of the original price.)
The new owner of Archstone will be Equity Residential, a REIT owned by another unpopular Wall Street figure — real-estate investor Sam Zell, who is best known for running the Tribune Company into bankruptcy — and a developer called AvalonBay Communities. Let's hope they do better with it. And let's hope that with the last Lehman millstone finally off his proverbial neck, Dick Fuld will sleep a little more soundly tonight.