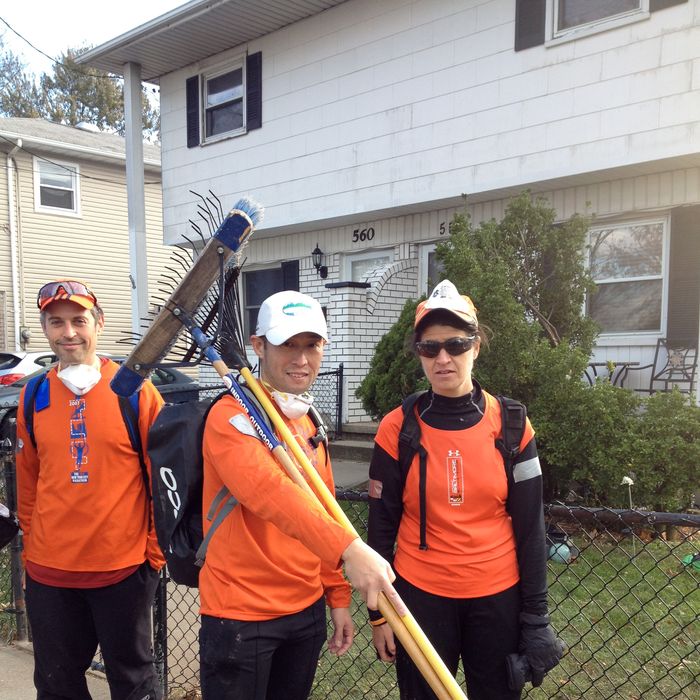 There they were, clip-clopping down Hylan Boulevard from the Staten Island Ferry to devastated Midland Beach, with their orange shirts and spandex and overdeveloped calf muscles, bearing backpacks filled with supplies. The marathoners who'd spent months training to run 26.2 miles into Central Park were making a symbolic run in the opposite direction, to help the exhausted residents of the forgotten borough, who watched the runners pass from snarled gas station lines or while pushing salvaged shopping carts toward a major distribution center at Miller Field.
"None of us were wanting to run in the face of the disaster that had just happened," said Mark Newman, 53, who joined a Facebook group called New York Road Runners for Staten Island soon after the marathon was canceled on Friday, amid a sharp outcry from Islanders who were still facing the loss of power and homes while bodies were still being pulled from the wreckage on their streets. Newman, who lives upstate in Piermont, had been without power himself for five days. On Sunday, he decided to forgo the run with other marathoners and simply take the Staten Island Railway to more quickly arrive at the distribution site. He gave away everything he carried, including his backpack, overwhelmed by how many volunteers had come out, and by how little of a dent their efforts seemed to make — especially on Cedar Grove Ave*, where an entire block of flimsy, beachside bungalows had been gutted by a thirteen-foot wall of water. He added: "My inconvenience was nothing compared to what we just saw. It was just brutal."
Those who did run encountered car dealerships where new vehicles had clearly floated out of formation and settled at odd angles, their hoods popped and their windows smashed. A hearse was being loaded at a single operational funeral home. The sights only got more disturbing from there.  "It is way worse than we thought it was," said Travis Hawkins, 29, a Manhattan triathlon trainer, after returning from Cedar Grove Ave. "This is not what they showed on the news." "They didn't show people's houses ripped off the foundation," said Brian Hammond, 36, a fellow triathlon trainer.
"I mean, we're dragging everyone's personal belongings out to the street, everything that they own," Hawkins continued. "We thought we were going to come here and give supplies to people that their power was missing and were cold. And we just ended up giving them our hands and helping out. I did not think we'd come here and realize that people's houses were still under water." They'd been in favor of the symbolic run, but the next time they came out to volunteer they'd be taking the train.
A man approached another group of marathoners in a daze. He was a retired cop who'd driven up from Florida to help out. During his two-hour break, he wanted to check on rumors of a morgue at George L. Ebgert Intermediate School; he thought he might have a relative there.
All along the borders of Miller Field, site of the main relief distribution center, Staten Island residents who'd only lost power brought supplies to those residents who'd lost their homes. Signs spray-painted on cardboard discouraged anyone from bringing more clothes, which had arrived in abundance. People needed garbage bags, cleaning supplies, laundry detergent, work gloves, shovels, ventilation masks, and air mattresses. A large Turkish family with three houses on a street in Dongan Hills carried cardboard boxes to store their clothes, the only things they'd been able to salvage from the wreckage. They'd tried to escape in their cars with five kids, ages 4, 6, 9, 10, and 12, and made it only half a block before the water got so high they had to abandon the mission and make a terrifying swim back home.
A Liberian woman, mother to a 2-year-old, stood with a giant garbage bag filled with baby clothes and diapers balanced on her head, and a gallon of bleach in one hand, a turkey and cheese sandwich in the other. Her family had three other children in tow, ages 6, 3, and 1, and were headed to a shelter by bus. They also needed to find more diapers; they'd been accused of taking too many at this distribution center and had to return most of their haul.
At 658 Kings Deli, every machine in the store was on the sidewalk, the compressors blown from salt water, and the last remaining eggs and milk on a window sill for anyone to claim. The deli's manager, Ajri Ismaili, 31, had been too busy evacuating his own family from the water that entered his house ("like a tsunami, it was so scary") to tend to the business until much later that night, when he came back at 2:30 a.m. to rescue two dogs while downed electrical wire sparked in black water that stretched from the beach to Titus Street, about eleven blocks away. "It looked like oil. It was ocean water and sewage, very unhealthy to breathe. It'll make you throw up, the smell." The place had already been looted, but the dogs were fine.
He'd been friends with the father who'd died clutching his 20-year-old son, the two men trapped in their basement by rising water. "It must have been the scariest thing in their life because the power was out, pitch dark, and they were trying to escape," he said. He's just heard of another customer who'd gone missing, a kid named Little Joe. None of his friends had heard from him, but without power or cell phone service in these parts, that could mean anything.
The deli's co-owner, Jeff Cela, 29, came by. Had Ismaili heard of the body they found by the beach? Cela had a friend who was working at Egbert school and had posted on Facebook that the Staten Island body count was actually 238, more than ten times the local paper's reported death toll of 18. He was an Obama supporter, but this was enough to make him not want to vote. "I just think something has to be going on where they're not saying why [there are more bodies than are being reported]," he said. "It's for the presidential election." He hadn't heard of Romney's plan to dismantle FEMA, but he thought that plan sounded crazy.
The people I spoke to who'd lost a home or business was determined to get to the polls on Tuesday, and nearly all were voting for Obama. Princess Toure, a member of the Liberian family on their way to the shelter, was "very impressed" with his visit to Atlantic City, where much of her family is from. Julie Demirkan, of the Turkish family from Dongan Beach, was still undecided, since she hadn't made up her mind before the storm and hadn't seen a television or had a moment to think since Monday evening. Her sister-in-law, Cigdem Demirkan, said she at least knew her polling place was open because it was Egbert Middle School, which has no power but is absolutely not being used as a morgue. "I'd love to vote. When is it?" she asked, wearily. "You know, I lost my days, too."
On Cedar Grove Ave along the waterfront, backhoes loaded sanitation trucks with the contents of entire houses. It was in this area that a body had been found underneath a collapsed house. Sergeant First Class Jason Letham of the Army National Guard said he'd helped recover the bodies of an elderly couple on Friday. "Saturday was a good day," he said, but there were still missing people and marshlands that had so far gone unsearched. A boat named Stephanie had washed up on the sidewalk. A family deli was unrecognizable as anything but columns of timber. All down the block were houses marked with either red pieces of paper designating them as "Unsafe" (residents could go in and try to salvage their things, but could not linger) or "OK," spray painted in green (basically the same thing, but the building had also been cleared by the FDNY for bodies). Outside one house was a sign, spray painted in red, reading, "Sandy, You Suck."
Helen Wasson, an elderly woman who works for the city, was clearing out her "Unsafe" home, though she couldn't feel too bad; one of her sons lives on Breezy Point and had it much worse. She'd been on the second floor and watched as the water blasted through the downstairs storm door, carrying her washer and dryer through the wall into the backyard. "There were only two-by-fours left on the bottom," she said. "It was like Titanic, waiting for the water to come. You know when they look down the stairs there and see the water, that movie, and I'm laying in bed like the little old lady! Waiting for the water. Thank God it never came."
There was word on the block that someone had gotten electrocuted earlier in the day. Wasson hadn't seen her boss, the mayor, on the block, but the borough president had driven by in a car. She still couldn't believe Bloomberg told city employees to go to work in that storm. "He's out of his mind. He shuts down the trains and the buses and everything and he expects you to go to work? How am I getting there? My cars are underwater! How are you supposed to get there? Tell me? Do I have wings?"
By 4:10 p.m., thanks to the time change, it was already getting dark, and cold. There was plenty of salvaged wood to burn in barrels and ruined barbecues. The marathoners were mostly gone; the spandex they'd worn for their symbolic run had proven too flimsy for the temperature drop. Galina Portnaya, 47, a hairdresser from Ukraine, carried her terrier, Fluffy, wearing a knitted outfit. "He's got a hat! Meshugenah! He's got a hat!" exclaimed her neighbor, Debbie Hernandez, 58, who was celebrating her birthday with a bowl of volunteer-made chicken soup.
"We came here 21 years ago from Kiev with two suitcases, with nothing, and we started our life all over again," said Portnaya. "That's what happen to us now, you know." Her husband had just gotten a job as an ambulance driver after a long period of unemployment, and hadn't been able to make it in. "So he lose job again, I guess." Her son, Alex Portnoy, 27, a nursing home supervisor, had waited in line for hours for gas just so they could get enough to run the car and charge their cell phones. But the free soup tasted good, and at least they had their health. "Yeah, I was gonna go run the marathon," Portnoy told his neighbors, "but I had other shit to do."
*An earlier version of this post misidentified the street as Cedar Drive, not Cedar Grove Ave.