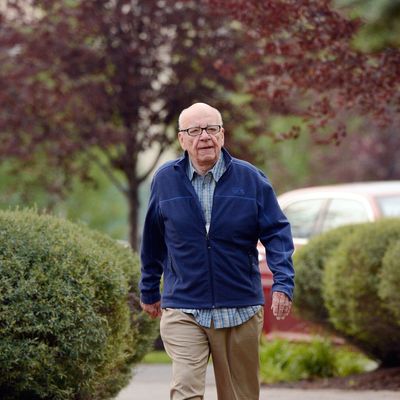 Photo: Kevork Djansezian/Getty Images
Morale is reportedly back up at News Corporation after more than a year of appearing publicly contrite over the phone-hacking scandal while still bringing in a ton of money. According to the New York Times, the company's planned split next year, which will separate the troubled newspapers from the most profitable aspects of the movie and TV business, frees up Rupert Murdoch to make more unencumbered acquisitions. He's also delighting in the fact that the media scandal du jour is now at the BBC (and has bled over onto the Times), which the CEO sees as "karmic justice" for the glee directed at News Corp.'s troubles. One media analyst described Murdoch as having "his mojo back," while another insider source with no regard for the easy caricature of an evil media mogul said, "He is definitely rubbing his hands together."
News Corp. is allegedly close to a deal that would give them 49 percent ownership in New York's Yes Network, making Yankees fandom even more morally bankrupt, while positioning Murdoch to take on ESPN with national sports coverage.
"The internal narrative at the company is that the boss is in shopping mode," explained another source, with eyes still on newspapers like the Los Angeles Times and Chicago Tribune.
All told, the Murdoch cabal sounds this close to lighting cigars with $100 bills.