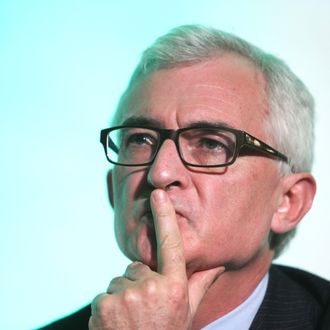 John Makinson, chairman and chief executive officer of Penguin Group.
Photo: Chris Ratcliffe/Bloomberg via Getty
Penguin held its Halloween party at its Soho headquarters the Friday before Sandy in an atmosphere of foreboding. Weather reports were forecasting a destructive path for the hurricane, but the employees were preoccupied by another impending storm. Dressed in their ghoulish costumes, they whispered about a takeover by rivals at Random House.
Within publishing, rumors that the companies might join forces felt like news of a merger between the Yankees and Red Sox. But like everyone in the business, both have been buffeted by technological disruption, so consolidation was probably inevitable. On a previously planned trip to Beijing, Random House boss Markus Dohle found himself hammering out the details of the merger.
On October 28, London's Sunday Times reported that Rupert Murdoch would offer $1.6 billion for Penguin, which helped force the Random House deal forward. Dohle was already on a plane back to New York, just ahead of the hurricane, and rushed home to leafy Westchester, feeling relieved by his decision, after Irene, to cut down a few tall trees that loomed over his house.
At Random House's headquarters in midtown, Stuart Applebaum, the company's head of communications, was polishing a carefully worded statement about the merger, which was set to go out in time for the Monday opening of the European markets. Applebaum had been at the office since Sunday morning, when he arrived with a small duffel bag of necessities. "Other than a few trips to stretch my legs," he said, "I didn't leave my desk for 32 hours."
At 3 a.m., both companies blasted out letters to the rank and file, many of whom, holed up at home, remained unsure of what the merger would mean. "Everyone is sitting around," one Penguin employee said, "thinking the worst." Another executive, up late, opened the mass e-mail and thought, Thank God it wasn't Murdoch. "After that," she said, "I went from 'Hold on' to 'Let's hop in bed as quickly as possible.' "
Penguin chief John Makinson, set to become the new chairman, arrived at his offices by 6 a.m. "I was sworn to secrecy about the announcement," Makinson told me. "This is the first time I've tried to deliver a message without having either the message, a means to deliver the message, or an audience to receive it." 
Around noon, Makinson and his lieutenants evacuated the building. "Downtown, it was a complete ghost town," he says. "And there we were, trying to communicate the details of this merger." He decided to unwind with a drink, following the news via Wi-Fi.  At the next table, a woman brushed against a glass, and it exploded from the hurricane pressure.
Applebaum stayed at his desk at Random House, until Monday evening. "I began to notice that it had started raining hard, really hard, and that wind was blowing and rattling the windows a bit," he says. When he finally left, around high tide, he found a phalanx of police officers in the lobby. "I asked one of the cops what was going on," Applebaum says, "He said, 'What, are you oblivious?' " A construction crane was dangling dangerously just a couple of blocks away.