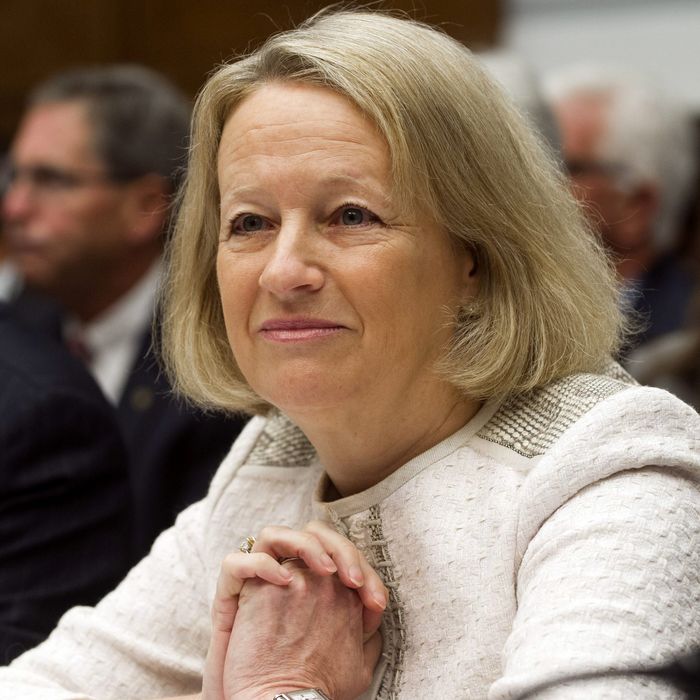 Photo: SAUL LOEB/AFP/Getty Images
In a second Obama term, Wall Street won't have Mary Schapiro to kick around anymore.
Schapiro, the chairwoman of the Securities and Exchange Commission — the agency whose job it is to sniff out Wall Street wrongdoing and bring financial criminals to justice — is planning to step down from her post next month, DealBook reports and Schapiro herself confirms. Schapiro's departure was widely expected — she'd apparently been telling friends for months that she wanted to leave. But now the move is official; Schapiro's last day will be December 14.
Schapiro is something of an S.E.C. lifer. She was first appointed to the agency in 1988 by Ronald Reagan, and ascended to the top spot in 2009, when President Obama made her the agency's first-ever permanent female chair. Her most immediate task was restoring the credibility of the S.E.C., which had been criticized for failing to catch the Madoff Ponzi scheme.
Since then, she has presided over an agency that has progressed in fits and spurts, often taking a step or two back for every step forward it took in cleaning up the nation's financial markets.
In Schapiro's win column is the S.E.C.'s wide-ranging crackdown on insider trading, which has netted record civil fines and criminal convictions in collaboration with federal prosecutors. As S.E.C. chair, Schapiro has overseen the creation of a whistleblower program that has resulted in 3,000 tips about potential wrongdoing at financial firms. She has recently drawn praise for her efforts to reform money-market funds. And under her watch, the S.E.C. has gotten billions of dollars in fines from banks whose mortgage lending practices spurred the global financial crisis. (You can read a more complete list of Schapiro's accomplishments from the S.E.C., which has written her an over-the-top mash note filled with effusive praise.)
Less impressive, however, is Schapiro's failure to fix the S.E.C.'s widespread reputation as a toothless lapdog that is ill-equipped to police the increasingly complex world of Wall Street criminality, and whose underpaid, underqualified employees spend all day looking at porn instead of bringing cases against the Madoffs of tomorrow.
Schapiro hasn't helped the S.E.C.'s reputation for going soft on the industry it polices. She continued the agency's longstanding habit of allowing Wall Street firms to settle massive securities law breaches without admitting wrongdoing — a practice she was forced to end after prominent regulatory types, including Federal District Judge Jed Rakoff, called the S.E.C. out on its fundamental unfairness. And there is some evidence that under Schapiro's watch, the S.E.C. quietly negotiated with Wall Street banks over the terms of CDO-related settlements, agreeing to refrain from prosecuting further misdeeds in exchange for cooperation and a big fine.
Schapiro's replacement will be Elisse Walter, a former S.E.C. commissioner who was first appointed by President Bush. Meanwhile, Schapiro will sort through dozens of lucrative job offers from Wall Street firms, even though DealBook says she is "more likely to seek out a position at a university or research group."