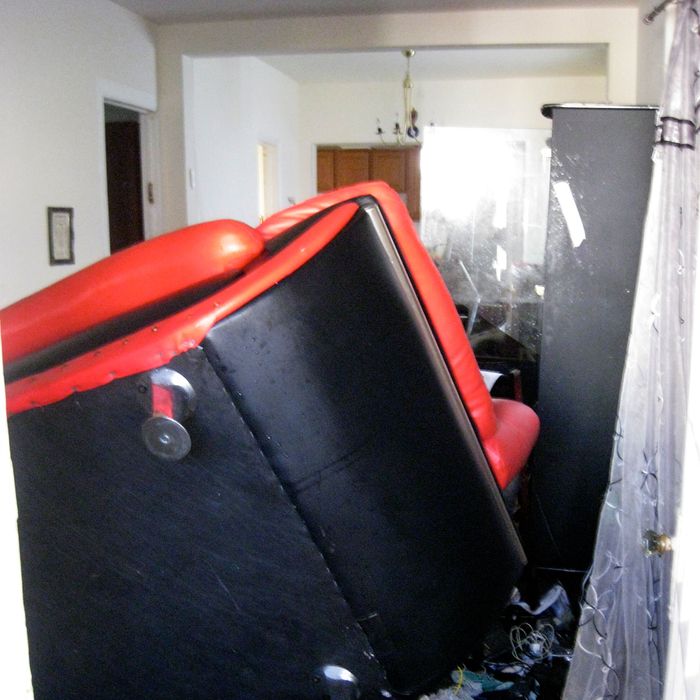 The home of Yaakov and Sarah Nachman.
Photo: Jessica Lustig
In the two weeks since Hurricane Sandy hit New York, the Rockaways and Staten Island have become symbolic of the worst of the storm's destruction. But down at the eastern edge of the devastated Atlantic coast along the bottom of Brooklyn, the waterfront bungalow community of Sheepshead Bay is just as demolished, and yet relief efforts have taken even longer to arrive.
Many residents evacuated before the hurricane but have returned to try to salvage their homes. Along with hundreds more who never left — some of whom rescued one another during the storm — they've been largely left to fend for themselves in a ruined landscape with no power, concerns about contamination from sewage that surged up during the flood, and little aid or communication from the outside world.
"Listen, the Red Cross ain't coming, so we're just helping each other," said Sharon Schneider, carrying a donated space heater back to her home on Mesereau Court. "It's survival." Volunteers from Occupy Sandy arrived on the scene for the first time just this past weekend, setting up a table on the corner of Emmons Avenue and Brown Street with hot food, medics, blankets, and cleaning supplies, and teams to help remove damaged belongings and gut homes. The Department of Buildings has sent inspectors out to evaluate the smashed, sodden houses, some of which were flooded to their ceilings, and slap stickers on them — green for those that can be occupied, yellow for those with restricted use because of structural damage, and red for those deemed completely unsafe.
Once a summer colony, still dotted with small one-story houses built in the twenties and a blue-collar yacht club opened in 1908, the neighborhood is crisscrossed by alleyways known as "the courts" that run beneath street level and are reachable only on foot. Many residents have been staying with family, friends, or church members, and said they had no information about whether their homes would ever be habitable again. "The feeling is shock," said Mike Rodriguez, a Vietnam veteran who works as a school crossing guard and lives on Stanton Road in the courts among a closely knit, remarkably diverse group of neighbors. "Nobody's coming other than FEMA," and that is only to file homeowners' claims. "None of our political people have been around. We haven't had people here saying, 'What happened?'"
The pungent smell of mold hung in the air as stunned survivors who have lost everything moved among the wreckage, reliving the horror of the storm. "At 7:46, the water started coming in," said Shannon White, 27, standing outside his destroyed house on Stanton Road. "At 8:10, I got out. The water was neck-deep." He swam to safety with his dog on his shoulders — and then came back. "I got a canoe that washed up on Nostrand Avenue," he said. "We were oarin' with two pieces of wood like this," he said, pointing to a broken fence. "We helped two old couples and a couple kids. I grew up here. This is all like family."
Around the corner on Gunnison Court, Wilson McCord's son had used a mattress as a makeshift raft to ferry out his 84-year-old father on the eight-foot swell. "I had to swim back to get his medication," said Andrew McCord. "He's diabetic. It was all floating in the water." Now the family was pulling apart the walls of the house where they had grown up. "We opened the kitchen cabinets and water and mud came out — and I'm afraid it's not mud," said Susan Jo, Wilson McCord's daughter. "I've never seen anything like this. And I've been through a hurricane or two."
"It was hell," said Sarah Nachman, an Orthodox Jewish mother of five who lives on Stanton Road. "It was like the movie Titanic. We were gonna leave, but I had nowhere to go. I heard an explosion, and then I passed out from the gas." Her husband, Yaakov, works as a volunteer community liaison with the Police Department and was at Coney Island Hospital helping to evacuate patients. Back at home, his own family was in danger. "I was inside floating on the couch," said the Nachmans' 8-year-old daughter, Rachel. Her mother revived in time to shout for help. "The water was up to the 21," said Sarah Nachman, pointing to the house number next to her front door. "My 3-year-old was slipping out of my hands. I was screaming my head off."
The Nachmans were saved by their neighbors. A power line had fallen on the roof of No. 24, a few doors down, and that house was on fire. Across the street at No. 32, Thomas Tong, 67, from China, told his wife, Amy, to stand on the railing next to their door and hold onto the awning. Then he and another neighbor, John Misra, swam into the Nachmans' house and got the family up into the attic. Tong swam back out, through the alley next to the burning house, to find help. "It was so windy," he recalled in halting English. "I think I will to be die. I swim, underwater, holding onto fence. I see firemen. They run come to see me." The firefighters took a boat down into the courts and brought the family out.
"It took the whole night for me to find them," said Yaakov Nachman, who finally found his wife and children at Kings County Hospital. "It was a miracle." His voice trailed off as he turned to look around the shattered remains of his home. "But everything's gone."