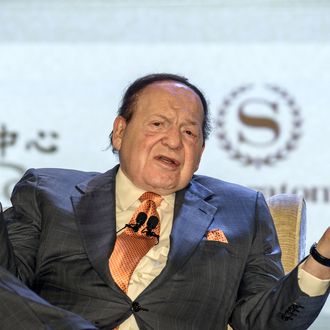 Photo: Phillipe Lopez/AFP/Getty Images
In the $6 billion election, one side got ripped off. But a day after Mitt Romney's loss, and a larger win for liberal America, life goes on for the Republican party's largest megadonors, like the 2,000-year-old casino magnate Sheldon Adelson. As the New York Times reports this morning, "Of the eight candidates he supported with tens of millions of dollars in contributions to 'super PACs,' none were victorious on Tuesday." He's not really sweating it:
"Paying bills," Mr. Adelson said on Tuesday night when asked by a Norwegian reporter how he thought his donations had been spent. "That's how you spend money. Either that or become a Jewish husband — you spend a lot of money."
"All I can say is the American people have spoken," said Home Depot founder Kenneth Langone, a big Romney fund-raiser, in the same Times article, as he waited for his Gulfstream jet at a private terminal in Boston. Huge losers also include Chicago Cubs owner Joe Ricketts, who spent about $13 million and knows better than anyone that there's always next year, and the Koch brothers, who raised about $400 million.
"It's never about one year or one election; it genuinely is about bringing the public to our view," Tim Phillips of the Koch-brothers-backed group Americans for Prosperity told Reuters.
Romney himself had breakfast yesterday with a group of big donors, the Washington Post reports, where he "reminisced about the journey and tried not to cry." There was finger-pointing — Hurricane Sandy, an underprepared Romney staff, Chris Christie — but also acceptance. "Mitt was vintage Mitt," said oil tycoon L.E. Simmons about the brunch. "He was analytical, no notes, spoke from the heart and was very appreciative."
And then there's Donald Trump. "Congrats to @KarlRove on blowing $400 million this cycle," the Least Valuable Player of this election tweeted. "Every race @Crossroads GPS ran ads in, the Republicans lost. What a waste of money."