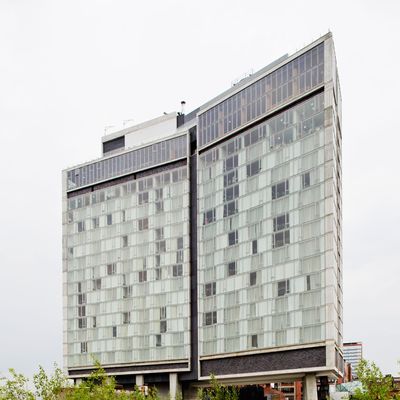 Photo: James Leynse/? Corbis. All Rights Reserved.
Tara Kimkee Tan, a 42-year-old former manager at Manhattan's Standard Hotel, is suing her ex-employer for $10 million, alleging that she was unceremoniously fired for not being "young, white, thin, childless or male," the Daily News reports. In addition to being told she couldn't "fit the culture" of the place, Tan — who claims she worked 80-hour weeks and was not granted maternity leave — said she had no choice but to give birth to her second kid in one of the swanky hotel's rooms:
According to court papers, […] "The hotel offered no assistance to [Tan] while in labor, afraid that it would disrupt its Friday night club scene and partying."

Tan said Wednesday that she labored alone in the hotel room for almost two hours. The baby was born just minutes after Tan's husband, Sean Kehoe, arrived while talking by cell with her doctor.

After the delivery, Tan says in her suit, she was removed through a side door, instead of the lobby. The lawsuit says the hotel's new general manager told her she "did not need to have the baby at the hotel. What was she thinking?"
Fortunately for everyone, the view from the High Line is not mentioned in lawsuit.