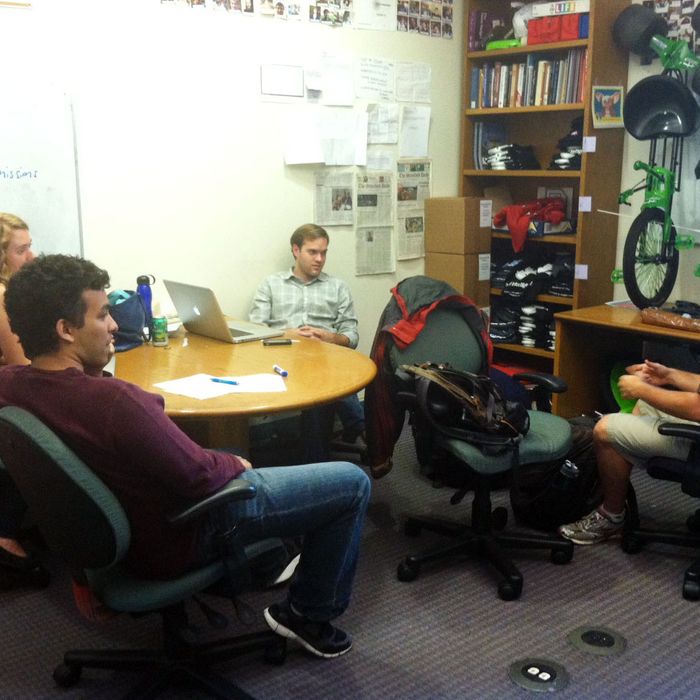 An afternoon in the CS198 office.
Deep within the bowels of Stanford University, a small faction of young computer programmers are being taught the secrets of Silicon Valley domination, with an emphasis on one skill in particular: how to act like normal human beings.
The course, known as CS198, has been churning out successful tech founders and venture capitalists for more than 30 years. Alumni of the program include Yahoo! CEO Marissa Mayer, Greylock Partners VC John Lilly, former Facebook CTO Bret Taylor, and Mike Schroepfer, who now runs Facebook's engineering division. In fact, it's likely that no single undergraduate class in America has had a larger impact on the upper ranks of the tech world.
"The program churns out a very, very good group of people," says Lilly, the former CEO of Mozilla, the organization behind Firefox, and a 1993 graduate of Stanford. "Compared to its impact, it's very underhyped."
CS198 is not, technically speaking, a computer science course. It's a course taken by students who serve as teaching assistants in Stanford's introductory computer science classes. Those lecture classes, which are huge (roughly 1,100 students are enrolled in one of the three introductory courses this quarter), are subdivided into sections of between ten and twelve students, each of which is overseen by an undergraduate or a grad student in the CS198 program. Last quarter, 120 aspiring section leaders applied for 27 section leader spots.
Why so coveted? Because by teaching them how to lead a section, CS198 gives hackers a social education. Computer scientists aren't known for their social savvy or extroversion, but the ones who pass through CS198 get a leg up with the emotional intelligence they need to build and run successful companies. It's CEO training for geeks, carried out under the aegis of Stanford, which The New Yorker called "the intellectual nexus of the information economy" — a school whose alumni have founded Hewlett-Packard, Yahoo, Cisco, Netflix, LinkedIn, and a host of other tech companies.
The program's office, located on the lower level of a building named after Bill Gates, is an understated monument to its success. Photos of past section leaders line the walls, many of them prominent in the tech world by now. Along with random student detritus (a snack shelf, parody T-shirts, and a line of "Green Machine" Huffy bicycles that CS198-ers use for impromptu races around campus) there are flyers about job openings at Google, Cisco, and a host of other companies.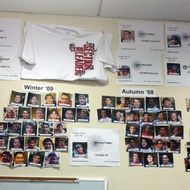 Many of the roughly 80 active students in the program tend to play up the benefits of learning how to teach, rather than the opportunities being in CS198 gives them after graduation.
"The program's really helped me become a lot more outgoing," says Patrick Costello, one of this year's CS198 coordinators. "I can interact with programmers a lot more easily now, even if it's just looking at their code."
Immediately upon entering the program, students in CS198 are given a four-week tutorial in teaching skills, focusing on how to distill complex coding challenges into easily digestible lessons. Then, for the rest of the quarter, they spend roughly between ten and twenty hours a week teaching their sections, grading problem sets, helping students debug their Java and C++ code, and staffing office hours in the LaIR, a computing cluster on campus.
Many CS198 students rave about the friends they've through the program and its social calendar, which includes annual group outings called "BAWK" (a combination of four former section leaders' first initials) and group games like foursquare and "Human Mario Kart." Recently, section leaders gathered to watch (and mock) the premiere of Start-Ups: Silicon Valley, a Bravo reality show about the tech industry.
"It's a really great, strong community," said Lynn Cuthriell, the co-coordinator of this year's batch.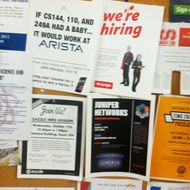 But CS198 is not just a happy-go-lucky student organization. It is also a high-powered job-placement machine. Dropbox, Sequoia Capital, and Greylock are some of the many companies that have targeted CS198 as prime recruiting ground. For many Silicon Valley start-ups, nabbing a CS198 graduate is the equivalent of getting a first-round draft pick.
"Oh yeah, we recruit directly out of 198," said Facebook's Schroepfer. "When I see it on résumés, it's a pretty strong signal."
In fact, the job prospects for CS198 graduates have been so good for so many years that, in recent years, the program has had to be careful not to attract students who just see it as an attractive line on their CV.
"I'm sure there are people who do it because they want a résumé boost," Cuthriell admitted.
Maesen Churchill, a Stanford junior who is in her fourth quarter as a section leader, parlayed her experience in CS198 into a full-time offer with Microsoft starting next summer. She said that explaining code to freshmen every week had given her a leg up in the interview process. And she said that the intense courtship she'd gotten from Microsoft, and from other tech companies like Google, had caught her off-guard.
"It's really awesome," she said. "I feel very wanted, and being in 198 is part of that."