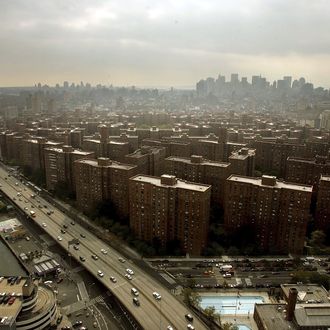 The Peter Cooper Village and Stuyvesant Town apartment complex is seen from Waterside Plaza October 19, 2006 in New York City. MetLife sold the massive Manhattan complex of 110 apartment buildings for $5.4 billion to Tishman Speyer, with the sale expected to close later this year. The sale ended a high-stakes bidding war and residents are worried they will soon be priced out of what is now a middle-class apartment complex.
Photo: Mario Tama/Getty Images
Each of 21,250 current and former tenants of Stuyvesant Town and Peter Cooper Village who leased non-rent-regulated apartments between 2003 and 2011 stand to get checks averaging $3,250 in a settlement announced on Thursday. Six years after they sued Tishman Speyer Properties, L.P. for converting rent-regulated apartments into market-rate apartments, and three years after an appellate court ruled in their favor, the total settlement comes to nearly $147 million. Of that, $68.75 million goes to reimburse tenants, and current owner CW Capital waives its right to collect another $78.1 million. Stuy-Town and Peter Cooper Village will be a harmonious urban paradise once more.