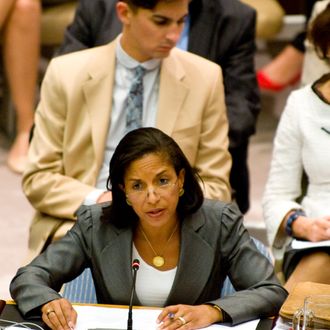 In case you've been ignoring all unsexy David Petraeus news, last week the former CIA director told Congress that the talking points U.N. Ambassador Susan Rice was working from when she was dispatched to five Sunday shows were indeed altered to remove references to a terrorist attack, but only "so as not to tip off the groups that the U.S. intelligence community was on their trail." Though this suggests that so-called conspiracy's only aim was to catch terrorists, John McCain is still demanding that Susan Rice issue a public apology for accurately relaying the information given to her by the CIA. On Wednesday Rice addressed the controversy publicly for the first time, saying outside the U.N. Security Council, "When discussing he attack against our facilities in Benghazi, I relied solely and squarely on the information provided to me by the intelligence community." Rice said she made it clear that the information was "preliminary," adding, "Everyone, particularly the intelligence community, has worked in good faith to provide the best assessment based on the information available." We're guessing this isn't the mea culpa McCain was looking for.
Rice went on to say that she knew Chris Stevens, the slain ambassador to Libya, and "None of us will rest, none of us will be satisfied until we have the answers, and the terrorists responsible for this attack are brought to justice."
When asked about McCain, who's vowed to block her nomination if she's put forward for secretary of state, Rice said that she has "great respect" for the senator, though some of his accusations have been "unfounded." "I look forward to having the opportunity at the appropriate time to discuss all of this with him," she added. Like at her Senate confirmation hearing, perhaps?