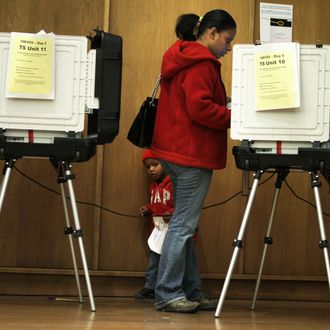 Photo: Alex Wong/2012 Getty Images
If you are obsessively scanning the campaign news in the final two days of the election, here's something you can safely skip: articles about crucial swing counties or swing regions of the crucial swing states.
For instance, the "swing area" of Central Ohio, or Florida I-4 corridor, where "campaigns are won and lost," or any of the "swing counties that will help decide the presidential race: Hamilton in Ohio, Arapahoe in Colorado and Volusia in Florida." If any last undecided voter in any of these counties has not yet aired his or her thinking to the national press, or been the subject of a major profile, they are probably saving themselves for a final press conference tonight.

But the whole concept of a "swing county" reflects a basic misunderstanding of how the system works. Because of the electoral college, we have "swing states." Some states are certain to go Republican, others certain to go Democratic, and since states are winner-take-all, the margin within those states doesn't matter. All that matters is the outcome in the swing states.

So when reporters set out to cover the swing states, they often apply the same logic. Find the swing region! But the logic doesn't apply. States don't have their own mini-electoral colleges. They have this crazy system where the candidate with the most total votes wins. Therefore, the more closely divided regions within a state have no particular importance. Every vote counts the same. Going from 49 percent to 51 percent in Hamilton County doesn't matter any more than picking up another two percentage points in some equal-sized county elsewhere. Candidates focus just as heavily on running up the score in their best counties, and also on picking up more votes in places they're going to lose.

It's kind of basic. But lots of the reporting and analysis of the swing states doesn't quite grasp it.