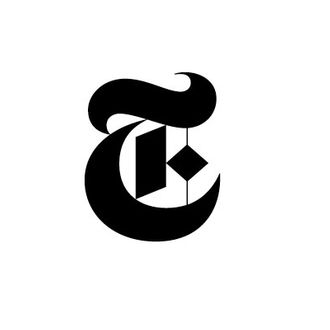 The world's most important T, aside from Mr. T.
Last night, the popular parody account @NYTOnIt — which mocks the New York Times for its painfully obvious and/or late-to-the-story lifestyle pieces, such as this one about how BlackBerrys aren't cool anymore or this one about how some restaurants and bars are noisy — was suspended after the Paper of Record complained to Twitter. Their beef lies not with the account itself, but with the logo, which consisted of the Times's ornate T wearing a beret. The Times takes this T business seriously: As AllThingsD notes, this isn't even the first time that the paper has gone after unauthorized usage. 
"We're not seeking to disable the account," Times spokeswoman Eileen Murphy said in a statement earlier today, "however, it is important to The Times that our copyright is protected and that it is clear to all users of Twitter that parody accounts or other unofficial Times accounts are not affiliated nor endorsed by The Times."
Though Benjamin Kabak, who runs @NYTOnIt (along with 2nd Avenue Sagas), believes that using the T is permissible for parody purposes, he told us in an e-mail, "It's also a battle I have no desire to fight against a media organization with far more resources than I have," and by 10:45 this morning, @NYTOnIt had been restored with a generic egg-shell icon. As for a future logo, Kabak is open to ideas and is "hoping that somebody comes up with something creative."
What irks Kabak is that the paper never attempted to solve the dispute on a more personal basis, without the use of such heavy-handed tactics. "No one from the Times legal staff attempted to reach out directly to me, asking me to change the logo," he tells us. "Had they done so, I would have been happy to hear them out and probably would have complied." (The Times's Murphy rebuts, "Our relationship is with Twitter and it is up to Twitter to ensure that individual accounts, this and others, are abiding by their terms of service.")
Nevertheless, Kabak isn't completely unsympathetic. "I mean, I understand why big organizations are so protective of their intellectual property rights," he says. "At the same, I don't know if a T from a font that you can download from the internet with a beret on it is really that infringing."
The irony of it all is that Kabak has been using the T in his logo since @NYTOnIt's inception in June 2011. Eighteen months later, the Times was on it.