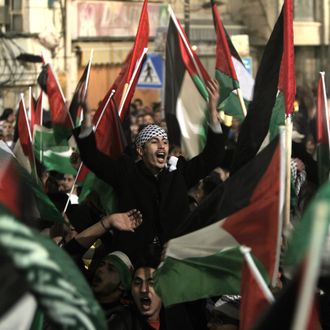 Palestinians celebrate the vote in Ramallah.
In the United Nations on Thursday 138 nations voted to recognize Palestine as a "nonmember observer state," despite protests from Israel and the United States. The Palestinians received strong support in the General Assembly, with 41 countries abstaining and only 9 opposed. The U.S. and Israel were joined by Canada, the Czech Republic, Panama, the Marshall Islands, Micronesia, Nauru, and Palau, which aren't exactly major figures on the international stage. The vote came on the 65th anniversary of the U.N.'s resolution to divide the British mandate for Palestine into Jewish and Arab states, but U.S. officials say upgrading the Palestinians' status makes the goal of two states living peacefully side by side less likely. Hillary Clinton said the "unfortunate and counterproductive resolution" only "places further obstacles in the path of peace." She added, "only through direct negotiations between the parties can the Palestinians and the Israelis achieve the peace that they deserve."
The Wall Street Journal reports that the recent war in Gaza led to greater support for the resolution, since diplomats from some Western countries were concerned that the conflict raised the stature of Hamas. Today's vote bolsters the position of Mahmoud Abbas, president of the Palestinian Authority, which has renounced violence and recognized Israel's right to exist.
Though part of the reason Clinton met with Abbas last week was to prevent the Palestinian Authority from losing political ground to Hamas, the U.S. opposes Palestine's new status, which is like that of the Vatican, because it could allow Palestinians to join U.N. agencies and bring war crimes charges against Israel in the International Criminal Court. According to the New York Times, on Thursday several senators, including Lindsey Graham and Chuck Schumer, said they would cut off foreign aid to the Palestinian Authority if it challenges Israel in the I.C.C., and threatened to close the Palestinian Liberation Organization's office in Washington if Palestinians won't negotiate with Israel.
What Palestinians will do with their new status isn't clear yet, but as people celebrate in the streets of Ramallah, U.N. Ambassador Susan Rice offered this discouraging statement from the floor the General Assembly: "The Palestinian people will wake up tomorrow and find that little about their lives has changed, save that the prospects of a durable peace have only receded."