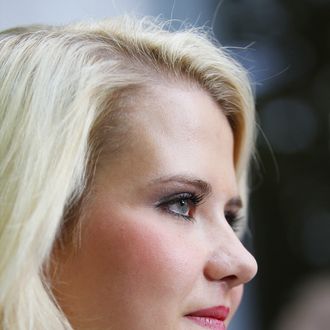 Elizabeth Smart.
Photo: George Frey/2011 Getty Images
With captor Brian David Mitchell serving two life sentences, now 25-year-old kidnapping victim Elizabeth Smart feels free to tell her story to the world via St. Martin's Press, which recently bought the rights to publish her memoir. She'll be getting some help from Utah congressman-elect Chris Stewart, who has already written several titles "with religious and patriotic themes" and will serve as a ghostwriter on the project. As it turns out, Glenn Beck is a fan: "If he wasn't running, I'd be trying to convince him to work for me, to help me stay the course, strategize, and save the country," Beck said last winter.
Unfortunately for Beck, Stewart now has his hands totally full, what with his dual commitments to the people of Utah's 2nd district and Smart.
Stewart said Friday that Smart has made a surprising recovery from the brutal experience at the hands of her captor. "She has taken a professional outlook on this and is able to talk in an impressive way about these things frankly," Stewart told The Associated Press. He said parts of her book would receive "appropriate" but not "salacious" treatment.
On her end, nearly a decade after being taken from her home and held captive for nine months, Smart is busy with college, married life, and her job as an abduction expert at ABC News.