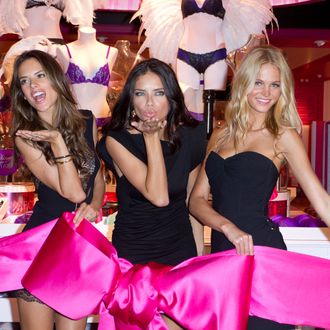 Photo: John Parra/WireImage
As with many places, Hurricane Sandy took out the electricity and heat at the New York Army National Guard's 69th Infantry Regiment's headquarters on Monday night. Unlike most places, the Guardsmen had some angels to help them out. Prior to the storm, Victoria's Secret brought eight generators to the Regiment's 25th Street armory, where the company has held its annual televised fashion show for the last three years. The 500 kilowatt units were intended to help power the event, but producers gladly handed them over to the Guardsmen at around 7 a.m. Tuesday morning. "We were dead in the water until Victoria's Secret showed up," said operations officer Captain Brendan Gendron, who used the generators to get the lights and hot water working. And it didn't stop there. 
One of the show's producers figured out to get even more juice into the building. After venturing into the basement, he turned off the armory's now useless connection to Con Ed and replaced it with one to Victoria's Secret power sources. According to Wired's account:
It was a kludge, and it had to be done right: the producers didn't want to fry the building when the local Con Ed substation finally started generating electricity again. "I have to admit, I was very skeptical," [producer David Shapiro] says.

But it worked. By 7 p.m on Tuesday night, the armory was fully powered; even the elevators worked.
With the internet down and cell service at a minimum, the Guardsmen were having major communications issues (obviously a big problem when you're supposed to be coordinating rescue efforts.) Again, the Victoria's Secret team came through: "For the show, [Shapiro] had leased a T1 line connected to a microwave dish on the roof. 'We plopped two routers in their command center,' he says, 'and now they're sitting on our internet backbone.'" And finally, when the Regiment was later tasked with helping to distribute "tract-trailers' worth" of emergency food, Victoria's Secret lent them their forklift. 
We're sure nothing is quite as satisfying as shedding just the right amount of light on Heidi Klum's post-baby body, but the Victoria's Secret people can still pat themselves on the back for this one.