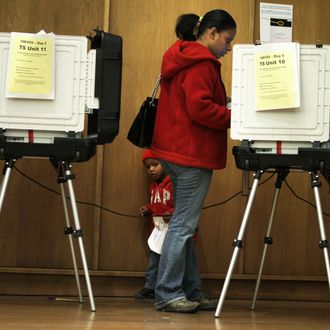 Photo: Alex Wong/2012 Getty Images
No amount of around-the-clock relief efforts could bring the Northeast back to normal before Election Day. From New York to New Jersey, Connecticut, Pennsylvania, and beyond, contingency plans are in place, but far from certain for Tuesday, when the presidential contest and countless local races are to be decided. "Elections are hard enough to put on as is," said New York City Board of Elections Commissioner J.C. Polanco, in an interview with DNA Info. "It's going to make things a lot more difficult." Among the issues: power outages at polling sites, gas shortages, and voters without transportation.
"We're still working on the details," Polanco said. Not only are there more than 100 polling stations in Zone A, but many sites don't have their voting machines yet as a result of the fuel situation affecting the tri-state area.
Officials are considering several options when it comes to where people should cast their votes, including combining poll sites and pitching tents outside of ravaged sites and powering them using generators.

But Polanco said the board is having Issues with securing enough electrical equipment to run all of their voting machines, which need steady power to run.

And then there's the matter of getting the tens of thousands of residents in disaster zones — many of whom remain without power and transportation — their cars destroyed — to the poll sites, when many are more concerned with how they'll find basic necessities, including food and water, than whether Romney or Obama will win the presidential race.
The New York Times notes that even the election hotline designed to tell people where their polling stations are located was out of service due to a loss of power as of Friday.
"Come hell or high water — we had both — we're voting on Tuesday," promised a Democratic commissioner on Long Island, but the makeshift arrangements — including extended deadlines for early and absentee voting, as well as paper ballots in locations without electricity — open the door for legal challenges:
As Wendy Weiser, the director of the Democracy Program at the Brennan Center for Justice at the New York University School of Law, a public interest organization, put it, "There will be an incentive for whichever candidate is losing in the affected states to look for litigating opportunities as a result of the disrupted election."
"Right now, it's a lot of if's, maybe's, we hope, keep your fingers crossed," Hudson County Clerk Barbara Netchert told the New Jersey Star-Ledger, which today detailed its own state's myriad concerns:
As of noon Friday, the 21 county boards of elections were required to tell the state Division of Elections and the state Attorney General's Office of all inaccessible polling sites among the approximately 3,000 statewide and proposed alternatives. But state officials had not released that information as of 6 p.m.
Although the states most affected are thought to be comfortably blue when it comes to the presidential race, President Obama's popular vote total could suffer from low turnout. The real concern, however, is with local races, where every vote really does count. With all of the obstacles in play at the moment, these election stresses seem unlikely to end on Tuesday.