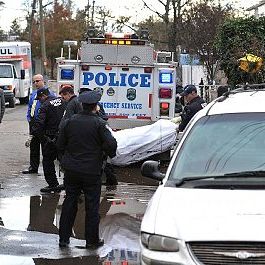 Photo: ? Copyright 2012 Corbis
For the most part, Sandy seems to have brought out the best in those left in its wake. Still, as police sergeants' union president Ed Mullins put it, parts of the city did transform into "a burglars' paradise" as countless apartments and stores were dark and abandoned for days. The NYPD saw a 7 percent rise in burglary complaints from the beginning of the storm through Thursday; they also warned that reports could increase as people return to their homes and businesses. 
On Monday night, as Sandy hit the city, $30,000 worth of shoes were stolen from Kixclusive, a sneaker store on Mulberry Street. The store was boarded up with plywood, which four robbers attempted to remove on Wednesday before they were arrested. On Tuesday, nine were arrested in Coney Island for various looting incidents; on Thursday, 18 were arrested for breaking into a Key Foods there. On Staten Island, two men were taken into custody after throwing a brick through the window of a Rent-a-Center, while three others were charged with sawing through the lock of another shop. Also on Tuesday, 15 people in Far Rockaway were caught breaking into liquor stores and a Radio Shack; a pair of brothers in Jamaica, Queens rammed through the window of a motorcycle store with a stolen U-Haul; a man elsewhere in Queens held up a gas station at gunpoint. 
The Daily News reports that people in the Rockaways — which remain mostly in the dark and without subway service — are increasingly concerned about crime. Some say that criminals dressed as Long Island Power Authority employees from have been knocking on doors in the middle of the night. "There's been sporadic looting and a couple push-in robberies," said City Councilman James Sanders. "No one is directing traffic. After night, you drive at your own risk." He also warned that, "People will take matters into their own hands." (Indeed, the paper found a few residents who said they'd taken up bows and arrows to protect themselves.) 
So, while some concerns about looting turned out to be warranted, fears of widespread price-gouging following the disaster have not come true — at least in New York. (One notable exception was Uber, a car service booking app, which allowed its drivers to charge double their normal fares in the days after the storm.) As has been widely reported, businesses that managed to re-open mostly kept prices normal, and a countless number opened their outlets and generators to people whose computer and phone batteries were drained. In New Jersey, the attorney general's office moved quickly to respond to over 500 price-gouging complaints by issuing subpoenas to 65 businesses. (Most reports were of too-high prices on gas, food, and hotel rooms.) "Having visited some of the hardest-hit areas of our state, and having seen firsthand the suffering people are experiencing, I assure New Jersey's residents and retailers that we are taking a zero-tolerance approach to price gouging," said Governor Chris Christie.