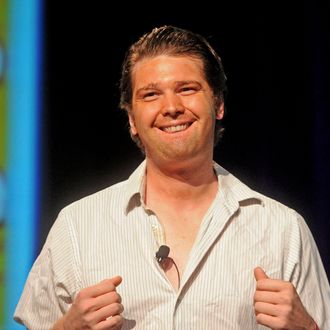 Goner?
Photo: Bloomberg/2010 Bloomberg
It has become something of a parlor game in certain tech circles to try to guess when Andrew Mason — the sophomoric, cat-loving 32-year-old CEO of daily deals site Groupon — will be bounced from his position by an angry board under pressure from irate shareholders.
The guessing game began when Groupon's stock price fell precipitously after its IPO, and heated up again last spring, when Mason held a now-infamous town hall meeting in which he chugged beer while nonchalantly brushing aside Groupon's terrible performance.
Now, players of the When Will Mason Get the Boot game have a new chance to tweak their wagers, thanks to a very awkward interview Mason did with Henry Blodget at this morning's Business Insider Ignition conference.
The interview took place under the most awkward of circumstances. Just yesterday, AllThingsD reported that Groupon's board was sorta-maybe considering replacing him with someone more battle-tested. And so, of course, Blodget began his interview by asking Mason point-blank if he was worried about being fired.
Mason — who cleans up well for interviews these days — was not exactly a paragon of confidence:
"The stock is down 80 percent since the IPO a year ago, so it would be weird if they weren't discussing if I was the right guy," he said. "That's their chief responsibility, and they have discussed it in the past."
But the CEO reaffirmed that he still wants to lead Groupon out of the gutter. Asked if he thought he was still the right man for the job, he said, "If I ever thought I wasn't the right guy, I'd be the first one to fire myself."
Unfortunately, Mason can't fire himself. Only the Groupon board can. And it's meeting tomorrow to decide, among other things, if Mason should be replaced by someone less quirky and more CEO-ish.
AllThingsD has a good list of five reasons the Groupon board should fire Mason, all of which basically boil down to the need for a sinking company with a history of strategic mistakes to make a change at the top. But the board, which has stuck by Mason for four years despite his antics and an 84 percent drop in stock price, may be scared to draw even more attention to the company's troubles by firing him.
I give Mason another quarter before he's ousted, but you should read Mason's plea for a second (third? tenth?) chance and come to your own conclusion.