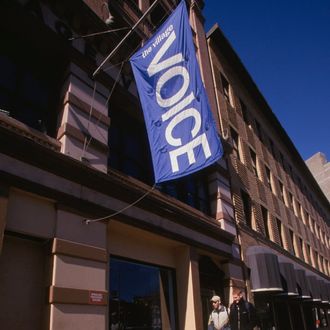 Will Bourne, formerly the executive editor of Fast Company and most recently an editor-at-large for Inc., is set to take over atop the Village Voice, becoming the sixth man to be named to the job since the alt-weekly was purchased by New Times in 2005. Bourne replaces the longest tenured of those editors under the new management (and, full disclosure, my former boss there), Tony Ortega, who left the paper to write about Scientology in September, amid layoffs and a corporate restructuring that saw the company's newspapers split from its controversial classifieds cash cow Backpage.com.
"The Voice is an amazing — and resilient!! — institution and, as the recent election showed, so is liberalism," Bourne told FishbowlNY today. "I plan to reinforce the paper's position as a showcase for progressive — but balanced, disciplined — journalism, and to make it an even more forceful presence on the culture front." He starts November 26.
Asked about running the once-venerable weekly in this new era, Washington Post media critic Erik Wemple, who was named editor of the Voice in 2006 before changing his mind and not taking the job, told Daily Intel, "The only way to go is to appreciate the resources you still have, not bemoan the resources that the paper once had. As the new Voice editor, he'll doubtless encounter naysayers who'll tell him the Voice isn't the grand and glorious paper it once was. I'd recommend steering such people to the Voice's way-back archive and let them judge for themselves."
"I hope he kicks some ass at his new job," Ortega added.