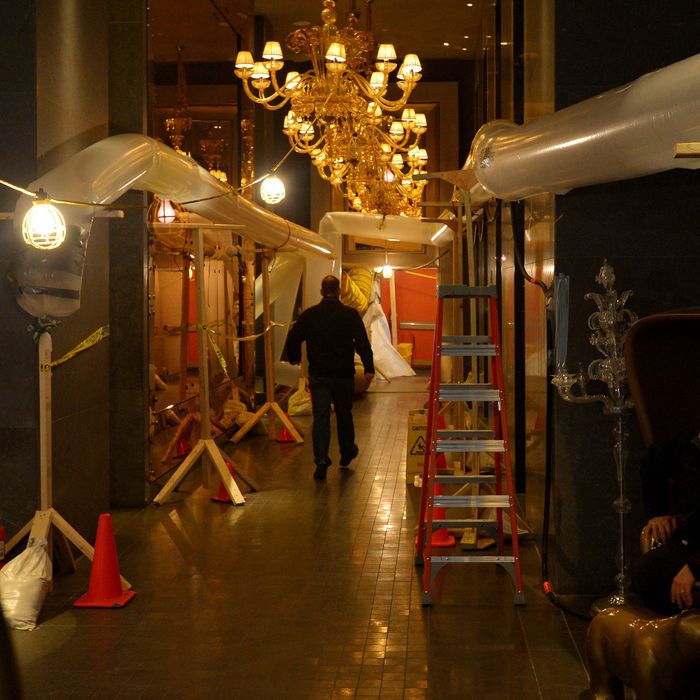 Photo: JUSTIN LANE/epa/Corbis
Three weeks after Hurricane Sandy bruised the city, it appears many sellers in Manhattan's Zone A — the part of the borough where the heaviest flooding was expected, and where much damage was inflicted — are putting their plans on pause.
In the two weeks after Sandy, only 22 Zone A apartments were put up for sale, down by more than half from the same period a year ago, according to Streeteasy's Sofia Song. Meanwhile, 69 units previously up for sale have been delisted. Many buildings have been declared unsafe or restricted by the Department of Buildings. A condo conversion at 88 Greenwich, for example, is said to be out of commission for a few months. Of nineteen apartments that were on sale there, eleven were pulled off the market since November 1, according to Julia Bryzgalina of Platinum Properties. Another unit in the building did close on a sale on November 7.
Curbed.com has been keeping tabs on "unsafe" and "restricted" buildings. As for condos and rentals in the area that came out of the storm pretty much unscathed, agents say deals have been progressing as usual, though some mortgage lenders are double-checking their investments. Tim Cass of Corcoran says one bank has asked for photographs of a building in which his client is in contract for an apartment.
Buyers, however, seem mostly unfazed. Brokers interviewed for this story say their apartment-hunters aren't pulling back, and that they're just as eager to look downtown as they were before the storm. In fact, says Cass, "during the storm, people were still trying to negotiate. In general, it just slowed everything down for that week. But deals were still closing, multiple bidding wars were happening." Jessica Weitzman, also of Corcoran, who lives and works in Battery Park City, says "literally the day after the storm. [I] was receiving a backup offer" for one of her listings. If anything's different, it's that Manhattan's Zone A buyers are more keenly aware than ever about the need for flood insurance. "Now they understand," says Cass.