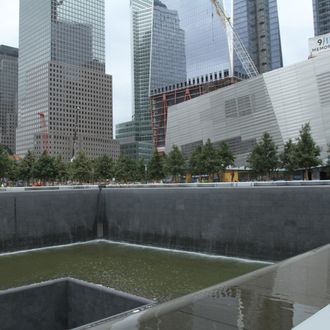 Photo: Steven Rosenbaum/2011 Steven Rosenbaum
The results of the largest study yet to explore the link between 9/11 debris and cancer are in, and they're frustratingly vague. Researchers with New York's Department of Health and Mental Hygiene looked at 55,700 people who had been exposed to the debris, from recovery workers to landfill workers to residents and workers in Lower Manhattan, and found no overall increase in cancer rates. They did find "significantly higher" prevalence in the rates of three cancers — multiple myeloma, prostate, and thyroid, — but only in rescue and recovery workers, not in the rest of those exposed. Unfortunately for science (and maybe for those workers), their sample size is too small and the possibility too great that the frequent monitoring pushed up the cancer rate, to call that a conclusive finding, The New York Times explains.
The implication here is that people whose conditions are unrelated to their work on or after 9/11 could be getting coverage under the James Zadroga 9/11 Health and Compensation Act. In June, the federal government added 50 types of cancer to the list of conditions covered by that act. "That decision meant that people with other sicknesses linked more strongly to ground zero were likely to receive less money," The Times reports. Meanwhile, New York City Health Commissioner Dr. Thomas Farley told Reuters, "Most of the people who have had cancer so far would have had it anyway."
A major complicating factor is that cancer can take 20 years or longer to develop, and the latest data used in the survey was from 2008. "We might see something different 20 years down the line," Farley told The Times. But he said, "you don't want to wait 20 to 30 years to get a definitive answer" to people currently suffering.