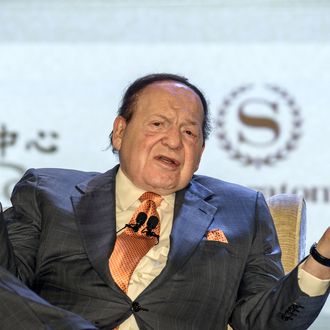 Las Vegas casino boss Sheldon Adelson gestures during press conference in Macau on September 20, 2012. Adelson unveiled plans to build a scaled down replica of the Eiffel Tower as part of a new 3 billion USD gambling resort in Macau.
Photo: Phillipe Lopez/AFP/Getty Images
Only one of the nine candidates backed by Sheldon Adelson won in the November election, but this hasn't dissuaded the casino magnate from acting as an ATM for the GOP. "I happen to be in a unique business where winning and losing is the basis of the entire business," Adelson tells The Wall Street Journal. "So I don't cry when I lose. There's always a new hand coming up." And Adelson is prepared to stuff it full of bills — eventually. He was already approached by five potential GOP presidential candidates at last month's Republican Governors Association conference, including Bob McDonnell and Bobby Jindal, but he still hasn't decided whom he'll shower with money in 2016.