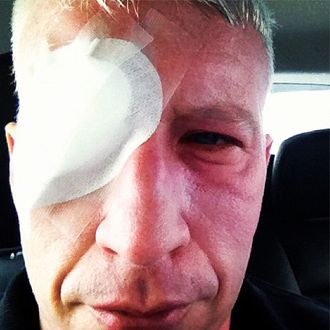 Photo: Anderson Cooper's Instagram
Intrepid newsman Anderson Cooper is out there fighting the elements for a story. "Temporarily blinded last week while on assignment," he tweeted today, along with a semi-pathetic selfie of him sporting an eye patch. "UV light bouncing off water," he explained. "Much better now." His adoring, worried fans responded with get-well notes like "You are really such a trooper" and "You're still beautiful," while he assured "details today on #andersonlive," his canceled daytime show. If the blinding-light reaction is added to the explosive fright and uncontrollable giggles, we may soon have the full range of Anderson Cooper emotions captured on-camera.
Update: Cooper told his sob story on-air today without video footage of the incident in question, but prefaced it by describing a disgusting incident in the bathroom of his plane from Tel Aviv. "Not only am I sitting on the toilet, I'm throwing up at the same time," he said, defining TMI.
Finally, Cooper made it to Portugal, where he attempted to Instagram a sunset. "It turns out I have sunburned my eyeballs and I go blind. I went blind for about 36 hours."