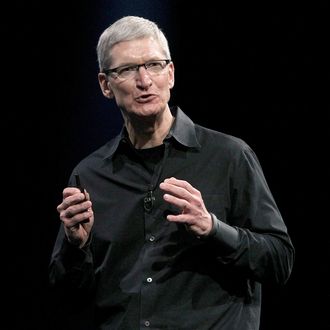 We liked you better as a recluse.
Photo: Justin Sullivan/Getty Images
Apple CEO Tim Cook — who is normally a bit reclusive and mysterious — gave a couple of big interviews today: one to Bloomberg Businessweek and another to NBC's Brian Williams.
Weirdly, Apple investors hated the press blitz; the company's stock fell several percentage points, adding to a one-week loss of more than 7 percent. [Update: The stock seems to have recovered a bit and is now trading up 2 percent.]
Why the early morning sell-off?
One theory is that the sell-off was sparked by Cook's announcement that Apple is going to spend more than $100 million next year moving production for a line of Macs from China to the United States. Cook told Businessweek:
We'll literally invest over $100 million [in American manufacturing]. This doesn't mean that Apple will do it ourselves, but we'll be working with people, and we'll be investing our money.
This move — which may have been sparked by public pressure resulting from the New York Times' iEconomy series and a horde of other reports about the company's supply chain — will go a long way toward mollifying Apple critics, but it will also likely increase Apple's costs of production and lower its profit margins on the U.S.-made models. So, although Apple making computers in America is good news for, well, America, the company's investors hate it. (Because, again, capitalism.)
Another theory behind Apple's stock slide is that it is related to Cook's clues that Apple is making a TV – something some investors doubt it can pull off. Here's what he told Brian Williams:
"When I go into my living room and turn on the TV, I feel like I have gone backwards in time by 20 to 30 years … It's an area of intense interest. I can't say more than that."
In both interviews, Cook was generally his usual charming self. He talked about Apple's in-house hedge fund, Braeburn Capital, a secretive entity that invests the firm's own cash. ("If you look at [Braeburn's] investments you would find the most conservative investments known to man in there," he tells Businessweek.) He addressed the Apple Maps snafu, saying, "It didn't meet our customers' expectation, and our expectations of ourselves are even higher than our customers' … so we screwed up." He spoke about his relationship with Steve Jobs, and addressed the persistent criticisms of Apple's main supplier, Foxconn.
These are all good things! And yet, the company's stock is was still falling, falling, falling. Maybe investors liked Apple better in its bad-boy phase.