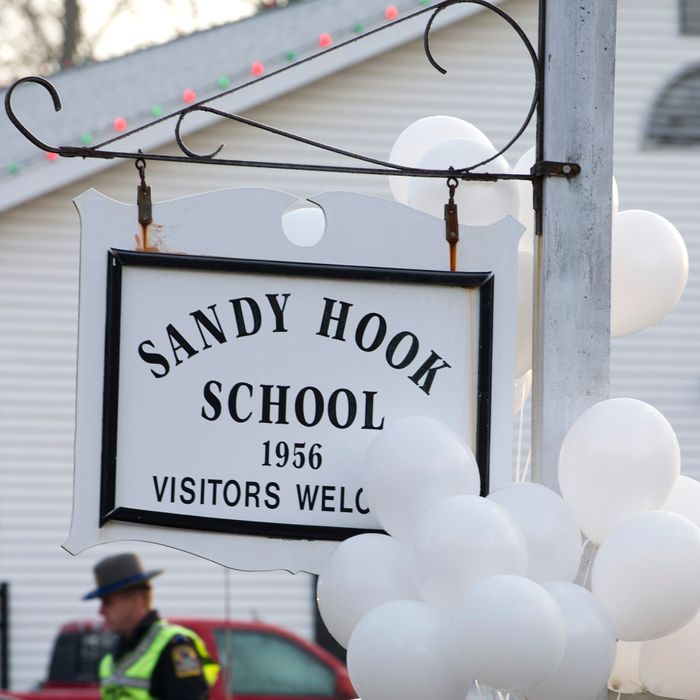 Photo: Don Emmert/AFP/Getty Images
It's been one day since twenty-year-old Adam Lanza shot his mother in her home in Newtown, Connecticut before moving on to Sandy Hook Elementary School, where he killed 26 people, including twenty children, before shooting himself. Overnight, at least 2,000 residents of the small New England town, located about 60 miles from New York City, packed into St. Rose of Lima Roman Catholic Church, which had been transformed into a candlelit "shrine" to the victims. "When I think I baptized some of these children," said Robert Weiss, the church's pastor, during the service. "This is Newtown. This is a town where families choose to live because it's safe." "People ask me if I'm surprised it happened in Newtown,"a 22-year-old man who lives in town told The Danbury News Times. "I'm surprised it happened anywhere. I grew up in the Bronx and I'd be surprised if it happened there." 
As the community began to deal with its shock and grief, authorities worked overnight to officially identify the victims and notify their families. During a Saturday morning press conference, Lieutenant J. Paul Vance of the Connecticut State Police confirmed that all victims had been positively identified, and that their bodies had been moved to the state medical examiner's office. Their names will be released later today. In the meantime, Vance asked that the public respect the privacy of the affected families. "They are going through a difficult and trying time," he said. "I am pleading with you. This is extremely heartbreaking thing for these folks to endure. Please abide by their requests." Vance added that investigators had found "valuable information" at Lanza's home that may help explain his motive, though he did not give details. "We are hopeful it will paint a complete picture of how and why." 
Though authorities have yet to confirm all these details, here is what news reports suggest happened yesterday: Lanza killed his mother, Nancy Lanza, at the house they shared, described as a "beautiful" two-story Colonial with a pool in an expensive part of Newtown. Contrary to initial reports, Nancy was not a teacher at Sandy Hook, though she may have been a substitute or a volunteer there at one time. However, at least one school board official told the Wall Street Journal that "No one has heard of her." 
After the first shooting, Lanza drove to Sandy Hook and "forcibly entered the school" at around 9:30 a.m. (Earlier reports suggested that he was buzzed in.) Upon hearing gunshots, principal Dawn Hochsprung, school psychologist Mary Sherlach, and a vice-principal ran toward the noise and encountered Lanza; Hochsprung and Sherlach were killed, while the vice-principal was wounded in the leg. A parent who had been meeting with the administrators recalled hearing "pop, pop, pop" and jumping under a table to call 911. The gunman "must have shot a hundred rounds," she said. At some point, someone flipped on the public address system, which broadcasted the commotion throughout the school, alerting teachers and students to the presence of a shooter. Lanza is said to have been "chillingly accurate," focusing on just two kindergarten and first-grade classrooms and shooting everyone he aimed for at point blank range.
While we wait for more information about a possible motive, a portrait of Lanza has begun to emerge. Lanza's 24-year-old brother, Ryan — who was believed to be the shooter for much of yesterday because of a screw-up involving social media and the fact that his brother was carrying his ID — has been cooperating with police and is not suspected of any wrongdoing. Ryan, who lives in Hoboken and works at a large accounting firm, reportedly said that he has not been in contact with Adam since 2010, and that he believes his brother suffers from "a personality disorder." Several high school classmates said Lanza had Asperger's syndrome and described him as extremely shy and "uncomfortable about being put on the spot." A neighbor from Newtown said Adam was "was a socially awkward kid. He always had issues. He was kind of a loner. I don't know who his friends were. He kind of kept to himself." A childhood friend remembered him as "probably one of the smartest kids I know," while a "family insider" called him "a real brainiac" who was "deeply disturbed" and prone to "outbursts."
The boys' father, Peter Lanza, who works at General Electric in Stamford, Connecticut, divorced Nancy in 2008 after seventeen years of marriage and is now remarried to a woman who works at the University of Connecticut. He reportedly first learned of his family's involvement in the shooting when he was approached by a reporter. His late ex-wife is remembered as a "very protective, very hands-on" parent who "said she would often go target shooting with her kids." The three guns Lanza used in the rampage (a Bushmaster semi-automatic .223 caliber rifle and two pistols made by Glock and a Sig Sauer) were legally purchased and registered in Nancy's name. 
This post has been updated throughout.