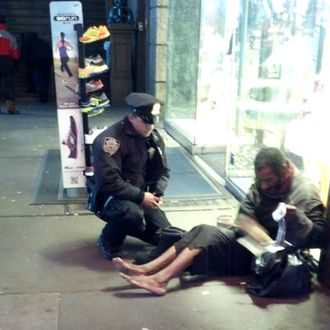 Inspiring photo, less inspiring story.
Photo: Jennifer Foster
Jeffrey Hillman, the barefoot homeless man who captivated a nation (specifically, the United States of America), is, it turns out, not actually homeless. As the Daily News reports, Hillman has "an apartment in the Bronx paid for through a combination of federal Section 8 rent vouchers and Social Security disability and veterans benefits." A spokeswoman for the Department of Homeless Services explains that Hillman has "a history of turning down services." Why he does this, we don't know, but that's just sad.
But is it sad, or is it … something else? NBC New York hears that Hillman does, actually, live in the apartment:
A small percentage of people who move from the streets into a home end up returning to the streets.

But Hillman still lives in his apartment, according to city officials. They tell the I-Team they checked on him a few weeks ago, when a concerned New Yorker called 311 about a shoeless man in the rain.

It's not clear why someone with brand-new boots would continue to go shoeless on the street when he has a home. Homeless experts speculate that in addition to the possibility of mental health issues or drug addiction, shoelessness might make for better panhandling.
Which would also go a long way toward explaining why Hillman refuses to wear those nice boots. We're not going to jump to any conclusions yet, except one: The Feel Good is leaking out of this story like air out of an increasingly depressing birthday balloon.