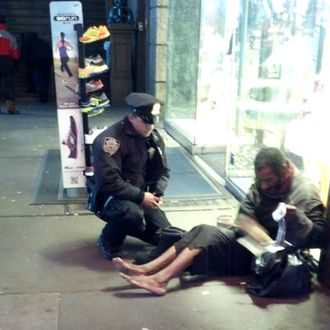 Still a photo of Officer Lawrence DiPrimo being awesome.
Photo: Jennifer Foster
Our local papers are officially hellbent on ruining the inspirational story of the officer who bought boots for a barefoot homeless man. It's emerged that Jeffrey Hillman is still barefoot and has a home, and now the Post reports that he also has quite the rap sheet. His arrest history in New York and Pennsylvania goes back to the eighties, and includes charges for drug possession, harassment, menacing, criminal mischief, reckless endangerment, possession of stolen property, resisting arrest, forgery, and grand larceny. Plus, in 1998 he was arrested for public lewdness after allegedly masturbating in front of several people in Hamilton Heights. We're just focusing on the kindhearted officer now, and if there's anything unseemly in his past we don't even want to know.