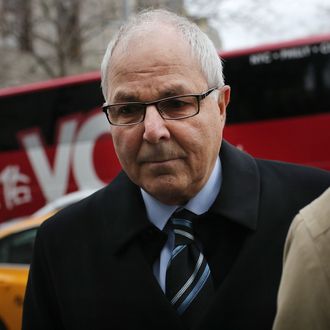 Peter Madoff.
Photo: Spencer Platt/2012 Getty Images
Bernie Madoff's younger brother Peter always craved his sibling's acceptance, friends wrote in letters to a judge before Peter Madoff's sentencing on Thursday, where his lawyer described him as a victim of his own loyalty. So he joined the family business instead of pursuing a career with the SEC, and he helped Bernie Madoff keep his actions hidden from regulators as compliance officer of their investment firm (though he's not charged with knowing about the Ponzi scheme itself). And now he's following his older brother to prison, the only other member of the Madoff family to be charged in the $17.3 billion scam. Those letters of support are unique, though, The New York Times points out: "The 63 character references stood in stark contrast to his brother's sentencing, when the judge in that case noted that he had not received a single supportive letter." They didn't change anything for him.
Peter had already worked out an agreement for a ten-year maximum prison term, which sounds like a smart move. Without that stipulation, his sentence would have been "literally off the sentencing guidelines charts," Judge Laura Taylor Swain said on Thursday, according to the Wall Street Journal. The judge recommended Madoff serve his time at the minimum-security prison camp in Otisville, New York. His older brother is serving his 150-year sentence at Butner, North Carolina. Beyond the prison time, Madoff agreed to forfeit $143.1 billion, which his lawyer said on Thursday would see him "almost certainly live out his remaining days as a jobless pariah, in or out of prison." The forfeiture doesn't just cover Peter Madoff, but his wife and daughter too, NBC News points out: "The government said those assets and assets that will be forfeited by other family members include several homes, a Ferrari and more than $10 million in cash and securities. It said his wife will be left with $771,733." Here's hoping she can scrape by.