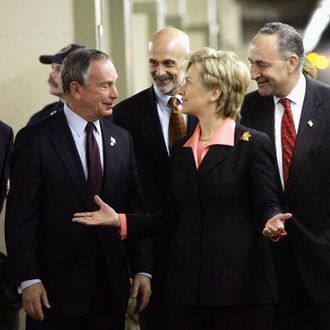 Michael Bloomberg has made no secret about his plans to endorse City Council Speaker Christine Quinn for mayor next year, but the news that he called Secretary of State Hillary Clinton to ask her to jump in the race suggests he's still holding out for a better choice. Or at least he was. Clinton "left little room for doubt: she was not interested in seeking the mayoralty," reports the New York Times, which broke the story of the call that happened months ago. We imagine Quinn's next encounter with the mayor will be a little awkward after this.
Even as the Times touts the mayor's endorsement of Quinn as a "foregone conclusion," some cracks have appeared in their relationship. In August the New York Post's David Seifman wrote that the mayor had cooled on Quinn after wage legislation she supported passed the City Council over his veto, and after she opposed his big-soda ban. More recently the mayor shot down Quinn's proposal for a set of city storm barriers. Bloomberg, it seems, would like an option. News of the mayor's call apparently took Quinn by surprise, the Times reported: "Told about the call on Monday, Ms. Quinn said, 'Really?' as an elevator began to close, then added, 'I don't know anything about that.' The doors then snapped shut."
Bloomberg sees Clinton as a "globe-trotting problem solver like himself," the Times reports, and the former New York senator certainly has a higher national profile than the City Council speaker. That fits with Bloomberg's apparent goal of becoming a political kingmaker in his post-mayoral life, as does his opinion that mayor of New York is a bigger deal than president of United States. "If in fact he did say that to Hillary Clinton, it's only because he holds the position and therefore regards it as a step up from being president," Democratic National Committee member Robert Zimmerman told the Times. Clinton, of course, is regularly the subject of speculation for a 2016 presidential run, which she's repeatedly denied, which only leads to more speculation. So let the Hillary 2013 rumors commence.