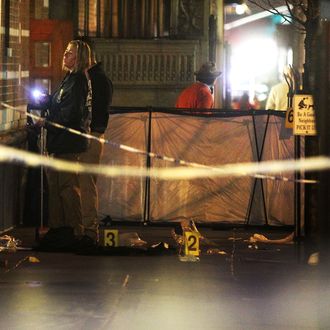 Photo: Mario Tama/Getty Images
The fatal shooting yesterday afternoon near Central Park was "definitely a hit, an assassination," a police source told the New York Post, with the victim identified as 31-year-old Brandon Lincoln Woodard. The California law student and father of a 4-year-old girl was visiting friends in New York City when he was gunned down on bustling 58th Street. His killer waited in the area around Columbus Circle for at least 40 minutes, ABC News reports, before walking up behind Woodard, firing a single shot, and fleeing in a silver Lincoln sedan waiting with a driver. Described by one witness as a "ghost," the shooter remains at large.
"There was no rush," said NYPD spokesman Paul Browne. "He just walked up, shot him and walked away." The getaway car was reportedly stuck in traffic and stopped at a red light near Woodard's body before taking off. The crime was caught on surveillance cameras but has not been released because the graphic footage does not show the killer's face, according to the Post.
Police are looking into Woodard's ties to the entertainment industry as well as previous drug offenses, including a felony cocaine possession charge for which he was due in court in January. Woodard also had prior arrests for robbery and petty theft for stealing from supermarkets.
"This is a shock," the victim's father, Lincoln Woodard, told the Daily News. "He was a very good son, loving."
Update: The NYPD released security footage from seconds before the shooting: