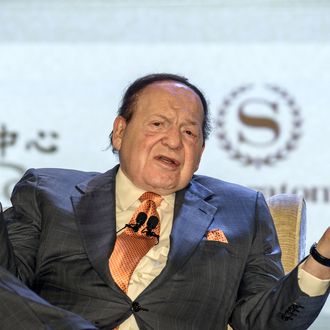 "Would it kill you to visit?"
Photo: Phillipe Lopez/AFP/Getty Images
No one imagines life in modern-day China is anything like an Andrew W.K. video, but now the country is actively cutting down on the fun (and after the holidays, no less). First, there's new legislation that requires adult children to visit their aged parents. And often.
As it stands, the new clause allows elderly parents who "feel neglected" by their children to take them to court. Scariest of all, the amendment does not specify how frequently the visits should occur, potentially leaving it up to parental discretion. According to the AP:
"A rapidly developing China is facing increasing difficulty in caring for its aging population. Three decades of market reforms have accelerated the breakup of the traditional extended family in China, and there are few affordable alternatives, such as retirement or care homes, for the elderly or others unable to live on their own.

Earlier this month, state media reported that a grandmother in her 90s in the prosperous eastern province of Jiangsu had been forced by her son to live in a pig pen for two years. News outlets frequently carry stories about other parents being abused or neglected, or of children seeking control of their elderly parents' assets without their knowledge."
Sounds to us like one bad Chinese child ruined it for everyone.
What's more, over one billion citizens can no longer take their complaints to the Internet because further government requirements passed today call for users to register their names when going online. This comes "after a flood of online complaints about official abuses rattled Communist Party leaders."

Writer Murong Xuecun explained: "Their intention is very clear: It is to take back that bit of space for public opinion, that freedom of speech hundreds of millions of Chinese Internet users have strived for." Naturally, 70 Chinese scholars and lawyers circulated an online petition appealing for free speech.
Even worse, regulators are also proposing a ban on foreign companies distributing books, news, music, and other material online in China.
We're onto you, China — take away fun so people have to visit their elderly parents. No one tell our mothers in Florida, though.