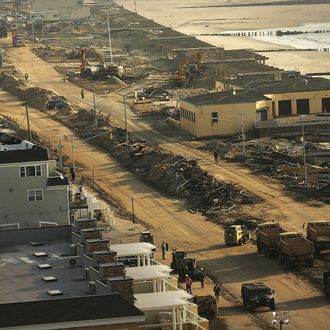 Photo: Spencer Platt/2012 Getty Images
Hurricane Sandy was harder on some than it was on others, and the ones who got away mostly unscathed are looking to give back. One man named Donald (not that one) Deniham — who, the AP reports, has survived a duck-shooting accident, prostate cancer, and a serious boating accident in his life and wanted to put his "God is Good" fund to use — found the St. Ignatius Martyr church and not one, but two worthwhile causes.
The Troys, a family whose house had been mostly destroyed, were on their way to Disney World as part of a Make-A-Wish trip for their son Connor, who suffers a life-threatening neuromuscular disease, when a nun put them in touch with Deniham. But as these things go, the church's 74-year-old cook and her disabled son were also in need of some divine intervention after Sandy had them escaping her rising waters by hiding in the attic. Which south shore family would Deniham choose? 
This is Christmas, after all, and every holiday needs a miracle. "I can't choose, Father … I'll just have to take care of both," the Massapequa man told the priest. Deniham promised the Troys he'd make any alterations they wanted, even installing a wheelchair-accessible shower and central air.
Though the AP story makes no mention of what repairs were made to the cook's home, it seems the Troys will be home in time for Christmas, which they plan to celebrate at St. Ignatius Martyr "to give thanks for surviving the storm" and by throwing a party in their new house. Naturally.