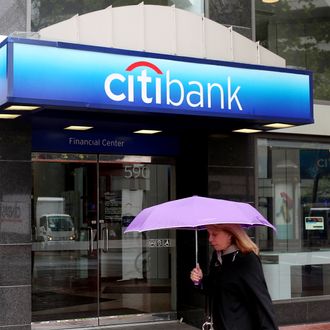 Photo: Justin Sullivan/Getty Images
Citigroup, the bank that just weeks ago unceremoniously dumped its CEO at the behest of its board chairman, today announced that it is taking "a series of repositioning actions that will further reduce expenses and improve efficiency," and that "will result in increased business efficiency, streamlined operations and an optimized consumer footprint across geographies."
In English: They need to save money, so they're laying off a bunch of people — 11,000, to be exact.
The bank also announced it is taking a $1 billion charge in the fourth quarter that is related to the cuts, which represents nearly 5 percent of its global workforce.
Citigroup's pre-holiday "repositioning" boosted the company's stock price by 4 percent, because capitalism.