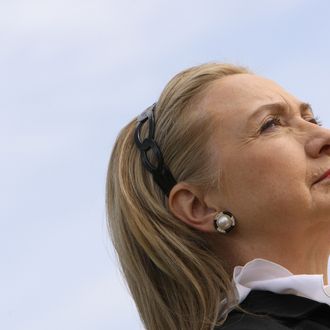 Photo: Sergio Dionisio-Pool/Getty Images
The other day, some Irish reporters asked Hillary Clinton the only question anyone seems to ask her these days: Does she plan to run for president in 2016? After claiming that she was too busy to even think about the issue, she offered up a variation on what has become her standard response to these inquiries: "Frankly, I'm looking forward to returning to living a life that enjoys a lot of simple pleasures and gives me time for family and friends and other pursuits." However, as Jodi Kantor (author of The Obamas) wrote in today's New York Times, Clinton will have to choose those pursuits carefully while she makes her final decision: "The more serious she is about 2016, the less she can do — no frank, seen-it-all memoir; no clients, commissions or controversial positions that could prove problematic." Consider that a clue, Hillary-watchers — the less interesting her activities appear, the more likely it is that she is planning to run. 
Right now, Kantor reports that Clinton is considering writing an "upbeat" book about her years as secretary of State, having shelved the "painful examination of her failed 2008 presidential bid" that she once proposed. Friends and aides say she might sign on to the Clinton Foundation, where she could focus on advocating for the rights of women and children internationally. That kind of work would be in line with Clinton's belief that "the country approves of her, and of female candidates in general, when they appear to be serving others rather than seeking power out of personal ambition." For that reason, she will likely turn down some of the lucrative roles that will surely be offered to her once she leaves office. While she could make a lot of money as an adviser to a law firm or an investment bank, such positions would not "wear well" in a presidential campaign. Instead, she will probably rely on speaking engagements for the bulk of her income. 
Even if she decides not to run, keeping her life campaign-ready will ensure her legacy as a "widely respected figure whose chief accomplishments are mostly behind her." However, it seems like it would be a real shame to pass up the opportunity to pursue the presidency, which is apparently Clinton's for the taking — at least according to Newt Gingrich. In a Sunday interview with NBC's Meet the Press, Gringrich said the Republican Party is currently "incapable" of competing with her: "If their competitor in '16 is going to be Hillary Clinton, supported by Bill Clinton and presumably, a still relatively popular President Barack Obama, trying to win that will be truly the Super Bowl."