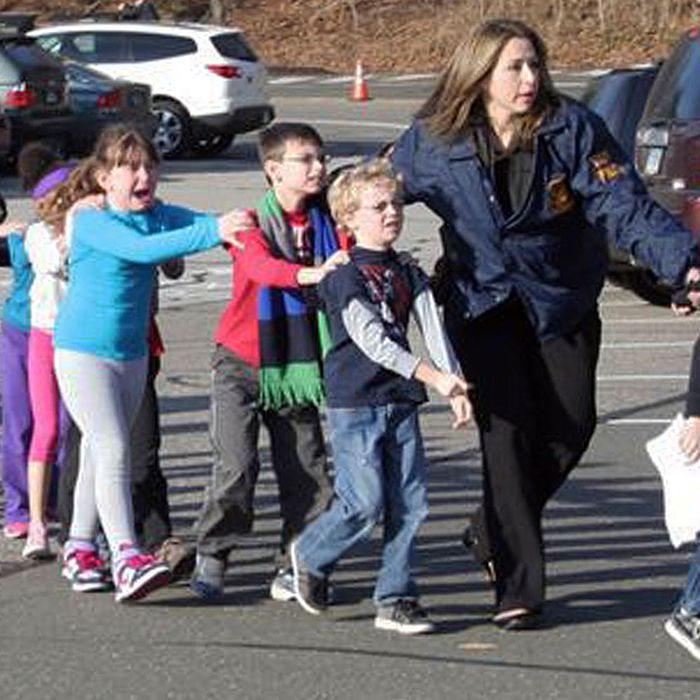 Photo: Shannon Hicks/AP2012
A 20-year-old gunman named Adam Lanza shot and killed 26 people, including twenty children, before killing himself at Sandy Hook Elementary School in Newtown, Connecticut, this morning. We'll update this post with more information as it comes in. 
Update XXII: Lanza first killed his mother at their home then attacked the school, according to an AP source.

Update XXI: Federal officials say "all 3 weapons that Lanza had with him were bought legally, and were registered to his mother," CBS News reports.

Update XX: ABC News reports, "Ryan Lanza, 24, brother of gunman Adam Lanza, 20, tells authorities that his younger brother is autistic, or has Asperger syndrome and a 'personality disorder.' Neighbors described the younger man to ABC as 'odd' and displaying characteristics associated with obsessive-compulsive disorder."
Update XIX: While police have not officially announced details about the suspect or his family, law enforcement officials tell the AP that Lanza was indeed the son of a teacher at the school and his mother, Nancy Lanza, is presumed dead. "Lanza's girlfriend and another friend were missing in New Jersey, the official also said."
Update XVIII: People have gathered outside the White House both to honor the victims and to rally for stricter gun control.
Update XVII: Mark Kelly, who has some first-hand experience with mass shootings, chimed in on his Facebook page:
As we mourn, we must sound a call for our leaders to stand up and do what is right. This time our response must consist of more than regret, sorrow, and condolence. The children of Sandy Hook Elementary School and all victims of gun violence deserve leaders who have the courage to participate in a meaningful discussion about our gun laws - and how they can be reformed and better enforced to prevent gun violence and death in America. This can no longer wait.
Update XVI: Mayor Bloomberg has released a statement through Mayors Against Illegal Guns:
"With all the carnage from gun violence in our country, it's still almost impossible to believe that a mass shooting in a kindergarten class could happen. It has come to that. Not even kindergarteners learning their A,B,Cs are safe. We heard after Columbine that it was too soon to talk about gun laws. We heard it after Virginia Tech. After Tucson and Aurora and Oak Creek. And now we are hearing it again. For every day we wait, 34 more people are murdered with guns. Today, many of them were five-year olds. President Obama rightly sent his heartfelt condolences to the families in Newtown. But the country needs him to send a bill to Congress to fix this problem. Calling for 'meaningful action' is not enough. We need immediate action. We have heard all the rhetoric before. What we have not seen is leadership - not from the White House and not from Congress. That must end today. This is a national tragedy and it demands a national response. My deepest sympathies are with the families of all those affected, and my determination to stop this madness is stronger than ever."
Update XV: According to the Jersey Journal, "former Jersey Journal staff writer Brett Wilshe said he has spoken with Ryan Lanza of Hoboken, who told Wilshe the shooter may have had his identification."
Update XIV: Police say the shooting took place in "one section" of the school, in two rooms.
Update XIII: Police now say that eighteen children are dead at the school, two are dead at a hospital, and six adults aside from the gunman are also dead.
Update XII: According to the New York Post, the shooter is Adam Lanza, while his brother, Ryan Lanza, is being questioned in New Jersey but is not a suspect. The Post also reports that "Lanza used two handguns and a .223-caliber assault rifle."
Update XI: "A law enforcement official briefed on the shooting said the gunman died from a self-inflicted gunshot wound and that one of the victims was the man's mother, a teacher," the AP reports.
Update X: CBS News reports that police have found a second body in the home of the suspected gunman. NBC's Pete Williams adds that the deceased was the parent of the suspect, and was found at a house in New Jersey.
Update IX: A parent and child recount their experience of the shooting.
Update VIII: Gut-wrenching photos from the scene are coming in from the wires. Warning: Some of these are incredibly painful.
Update VII: The AP:
A law enforcement official says the attacker in the Connecticut school shootings is a 20-year-old man with ties to the school.

The official said that a gun used in the attacks is a .223-caliber rifle.
The .223-caliber shell is used most commonly in hunting rifles and in semiautomatic assault rifles. NBC News reported that the shooter was wielding an assault rifle, which is sure to be a factor in the debate about gun control that is certain to follow. Google Images has many pictures of .223 caliber assault weapons, and they are scary-looking pieces of equipment indeed.
Update VI: CBS's John Miller reports, "Officials have a potential second shooter in custody in elementary school shooting. SWAT will now begin investigating home of possible second shooter."
Update V: The Associated Press confirms that 27 people are dead and reports that eighteen children were killed.
Update IV: CBS has more details:
CBS News' John Miller reports there is preliminary information that the gunman was the father of one of the students. Miller also says that at least a couple dozen people were shot.

The shooter was killed and apparently had two guns, a person with knowledge of the shooting said.
Update III: At least twelve people are dead, reports the Breaking News Wire via ABC News, with at least twenty people shot in all, according to the Courant. Although there are conflicting reports in the chaos, CBS reports that 27 people are dead, including fourteen children, totals that would more than double the deaths at Columbine.
Update II: Witnesses are saying the principal, Dawn Hochsprung, was shot, along with a school psychologist and the vice-principal, according to CNN. The shooter's body is reportedly in a classroom. The Courant reports, "Many of the shooting took place in a kindergarten classroom."
Update: According to the Courant, there are multiple casualties at the school, and several children were brought to the local hospital. Fox Connecticut reports that children were killed in the shooting, and the AP adds that at least one teacher was wounded.
"One child was carried from the school by a police officer, apparently seriously wounded. Other injuries are reported, and emergency personnel have set up triage facilities," reports the Newtown Bee.
Related: Reasons to Love New York – Because Our Mayor Isn't Afraid to Talk Gun Control