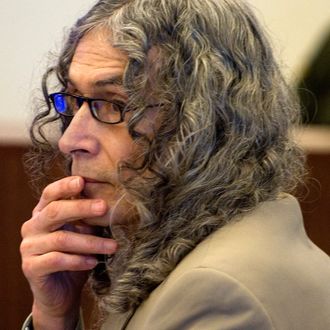 Alcala in California court in 2010.
Photo: MICHAEL GOULDING/AP
Rodney Alcala — also known as John Berger, or the Dating Game Killer for appearing on that show during his killing spree — pled guilty yesterday to the 1971 murder of Upper East Side flight attendant Cornelia Crilley and the 1977 murder of Hollywood nightclub heiress Ellen Hover, whose body was later found in Westchester County. "Thank you, Manhattan District Attorney Cyrus Vance and members of the Cold Case squad — Melissa Mourges, notably — for doggedly pursuing this murderer," wrote Hover's cousin, author Sheila Weller, on her Facebook wall. However, while Weller (who has written about the Alcala for Marie Claire) "truly salutes" the team that saw the decades-old case through to a guilty plea, she and Hover's other family and friends are still upset that justice was not done earlier. In an e-mail to Daily Intelligencer, Weller explained that she felt Alcala "was treated to a tremendous amount of ridiculous leniency early in his career as a nascent mass murderer," having received a mere five-year sentence for the brutal rape of an 8-year-old girl. After reviewing court records made available to the victims' families, Weller also feels Alcala was "coddled" by the parole officer assigned to him after that crime and during the period when he murdered Hover, and that he benefitted greatly from the help of a girlfriend who kept "covering for him" even though she knew what he had done. Alcala's sentencing is set for January 7, and he is expected to get two 25-years-to-life sentences, to be served concurrently in California, where he is already on death row for the strangling deaths of four women and a 12-year-old girl.