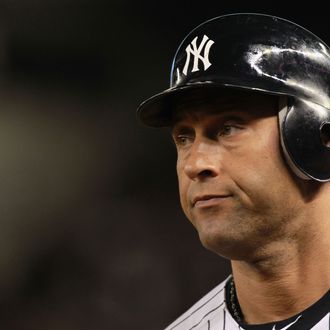 Derek Jeter #2 of the New York Yankees looks on against the Detroit Tigers during Game Five of the American League Championship Series at Yankee Stadium on October 6, 2011 in the Bronx borough of New York City. The Tigers won 3-2.
Photo: Nick Laham/Getty Images
Derek Jeter is out of control. Despite being approximately two pounds overweight four months before the start of the 2013 season, the Post reports that the Yankees shortstop ate dinner on Sunday night and again on Monday night. It's unclear as of now whether Jeter, who seems to have lost all interest in baseball and may even harbor some sort of death wish, also ate food on Tuesday or Wednesday.