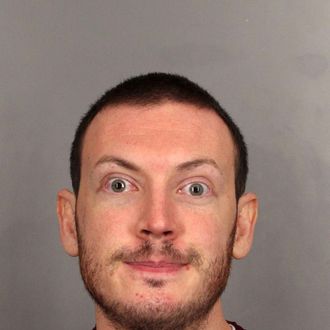 James Holmes.
Photo: Arapahoe County/Splash News
Thousands of University of Colorado e-mails related to alleged Aurora, Colorado shooter James Holmes were finally released on Wednesday, following public records requests from multiple news outlets in July. The e-mails reveal some new personal details about Holmes: He had only a few friends, considered being a test subject for a university researcher performing brain scans on schizophrenic people, and briefly had a girlfriend. (A faculty member wrote after the shooting, "She, fortunately, it turns out is in India right now. She knows, and is pretty freaked out.") However, the biggest news in the case didn't come from the e-mails. 7News in Denver reports that six weeks before the shooting Dr. Lynn Fenton, a University of Colorado psychiatrist treating Holmes, called a university police officer and said she was concerned because Holmes had been talking about killing "a lot of people." Sources say that Fenton asked the officer to run a background check, which revealed that Holmes had no criminal record. In a second call, the officer asked Dr. Fenton if she wanted Holmes to be detained for a 72-hour mental health evaluation. Fenton said Holmes had given notice that he was withdrawing from the university, so that wouldn't be necessary.
It was reported previously that Fenton alerted the school's Behavioral Evaluation and Threat Assessment team about Holmes on the same day, but the team decided that since he'd dropped out of school a day earlier it "had no control over him."
The Associated Press notes that the e-mails don't reveal much about Holmes's problems at the university, or concerns about his mental health. The school said it fully or partially blacked out thousands of e-mails to avoid violating privacy laws. However, the documents show that after the shooting, staffers were concerned about how to handle information that might be damaging to the university. In August a university official told colleagues that a professor's evaluation of Holmes from a 2011 recruitment visit was still in the school's computer system, and an attorney had told him to "purge" it. Another official objected, and the next day the attorney said no information on Holmes should be dumped.
In another series of e-mails from two days after the shooting, staffers worried that Holmes might have received shipments of hazardous materials on campus. Ethan Carter, director of the Department of Environmental Health and Safety, said it would be a "very serious matter" if Holmes had used the university's systems "to purchase materials used for bomb-making and we had no knowledge or tracking in place. The liability and inventory control implications are huge." At the time authorities were still searching through Holmes's booby trapped apartment.
Holmes is facing 142 charges for allegedly killing 12 people and wounding 58 others. He's expected to enter a plea after a week-long preliminary hearing that's set to start on January 7. A hearing scheduled for last month was postponed because Holmes reportedly tried to commit suicide.