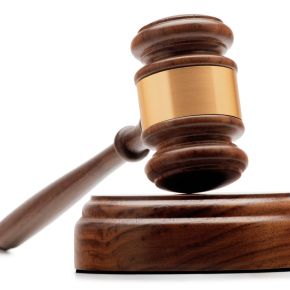 An Orange County, California judge's assertion that "the body shuts down" to prevent a woman from being raped sure sounds a lot like what we heard from Rep. Todd Akin last summer. It's not a political thing this time, but in this case the thinking led straight to a light sentence for a convicted rapist. Judge Derek Johnson made his comments when sentencing a man to six years in prison in 2008, when prosecutors had asked for sixteen years after he was convicted of "rape, forcible oral copulation, domestic battery, stalking and making threats against his live-in girlfriend," according to the Los Angeles Times. Johnson said the victim "didn't put up a fight," so he was dubious about the severity of the crime. It's only coming out now because the California Commission on Judicial Performance finally decided to admonish him publicly — he's still on the bench, and hasn't commented.
Johnson's full quote comes from City News Service, via LAist:
I'm not a gynecologist, but I can tell you something—if someone doesn't want to have sexual intercourse, the body shuts down. The body will not permit that to happen unless a lot of damage is inflicted, and we heard nothing about that in this case. That tells me that the victim in this case, although she wasn't necessarily willing, she didn't put up a fight. And to treat this case like the rape cases that we all hear about is an insult to victims of rape. I think it's an insult. I think it trivializes a rape.
Sounds a lot like Akin's anti-abortion claim that pregnancy from rape is "really rare" because "if it's a legitimate rape, the female body has ways to try to shut that whole thing down," no? Where are these guys getting this stuff from?
In Akin's case, the source appears to be Dr. Jack C. Willke, the former president of the U.S. National Right to Life Committee. But Johnson cited his own experience as a sex crimes prosecutor in informing his thinking here. "Johnson, a former prosecutor in the Orange County district attorney's sex crimes unit, said during the man's 2008 sentencing that he had seen violent cases on that unit in which women's vaginas were 'shredded' by rape," the Associated Press reports. An outdated tenet of California law, requiring rape victims to prove they resisted or were threatened, was removed in 1980, the AP notes. Johnson has apologized, but we'd be more comfortable if he was also removed from the judicial process.