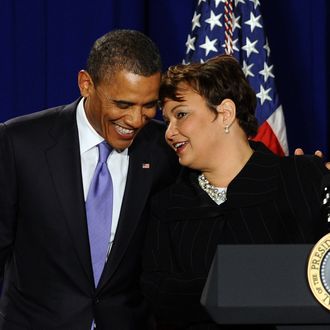 US President Barack Obama (L) listens to Environmental Protection Agency (EPA) administrator Lisa Jackson before speaking to EPA employees in Washington, DC, on January 10, 2012.
Photo: JEWEL SAMAD/AFP/Getty Images
The cabinet shuffle continues: EPA administrator Lisa Jackson will be stepping down following Obama's State of the Union address in January, it was announced today. Jackson's time at the head of the EPA "began with high hopes of sweeping action to address climate change," as the Times puts it, but nothing approaching that came close to happening, ever. But, good job, good effort.