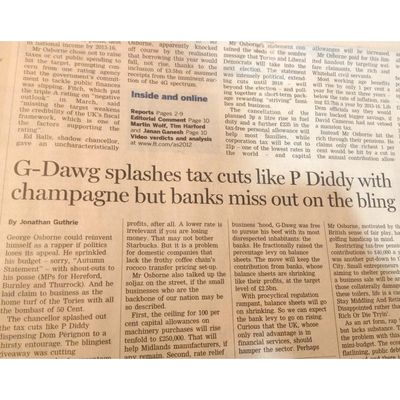 The usually buttoned-up Financial Times took a time machine to the days of jiggy rap in a front-page opinion piece today, declaring — with all the style of parents who say "Fiddy" — "G-Dawg splashes tax cuts like P Diddy with champagne but banks miss out on the bling." It gets better (worse?).
"George Osborne could reinvent himself as a rapper if politics loses its appeal," reads the real editorial, the substance of which is completely overshadowed. "Easily as posh as hip-hop DJ Tim Westwood, he sprinkled his Budget — sorry "Autumn Statement" — with shout-outs to his posse (the MPs for Hereford, Burnley and Thurrock). And he laid claim to business as the home turf of the Tories with all the knuckle-headed bombast of 50 Cent." See also: homies; Dom Pérignon; blingiest; the business 'hood; beef; and, for whatever reason, Boy George.
And finally, "As an art form, rap is loud, gestural but lacking in substance." To which an ancient rap adage applies: FT was a morning read to most, but it never meant shit to me.